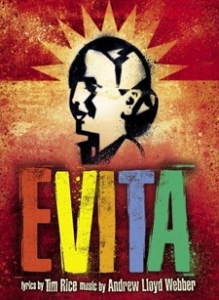 Evita
Evita brings to life the dynamic, larger-than-life persona of Eva Peron. Beginning with a young and ambitious Eva, the production follows her meteoric rise to sainthood. The story tells of the enormous wealth and power she gained and the means by which she became the beloved Evita.
Evita's memorable "Don't Cry For Me Argentina" was recorded and released in 1976 followed by the complete double album release, which went gold. The stage production opened on June 21, 1978 at the Prince Edward Theatre in London with Elaine Paige in the title role and Joss Ackland as her formidable Juan Peron.
Following stints in Los Angeles and San Francisco , Evita premiered on Broadway at the Broadway Theatre on 25th September 1979 . The production ran for an incredible 1,567 performances (more than twice as many as Jesus Christ Superstar). Evita won an impressive seven Tony Awards including Best Book, Best Score and Best Musical of the year. In 1981, the Evita cast recording was awarded a Grammy Award.
Productions of Evita have been performed all over the world, including performances in Austria, Spain, Mexico and South Africa. A revival of the show opened at London's Adelphi Theatre in 2006, with Argentinian actress Elena Roger as Eva. The production ran until May 2007 and was nominated for a number of awards, including a nomination for Elena Roger as Best Actress In A Musical at the 2006 Laurence Olivier Awards.
In 2008 a new production of the show, directed by Bill Kenwright, toured the UK.
Klavieruittreksels en eventuele libretto dienen apart besteld te worden s.v.p. aangeven op het offerteformulier.
Vraag een licentie voor opvoering aan
Kies eerst de juiste instrumentale bezetting, alvorens de offerte aan te vragen.

Instrumentatie: 18 piece version

Woodwind I (Flute, Alto Flute, Piccolo)
Woodwind II (Bb Clarinet, Bass Clarinet)
Horn I
Trumpet I
Trumpet II (Trumpet, Flugel)
Trombone
Guitar (Electric, Acoustic, Spanish, 12 string)
Bass Guitar (doubling Contrabass)
Drums
Percussion
Keyboard I
Keyboard II
Keyboard III (doubling Accordion)
Violin I
Violin II (divisi a 2)
Viola
Cello
Instrumentatie: 9 piece version

Trumpet (Trumpet, Flugel)
Trombone (Tenor, Bass)
Keyboard I
Keyboard II
Keyboard III (doubling Accordion)
Percussion
Guitar (Electric, Acoustic)
Bass (Electric, Contrabass)
Drums
Principals
1 Woman
2 Men

Featured
1 Woman
1 Men

Ensemble
Singing-dancing ensemble consisting of the people of Argentina

Characters
Eva Peron
Peron
Che
Peron's Mistress
Magaldi
Men, Women and Children of Argentina