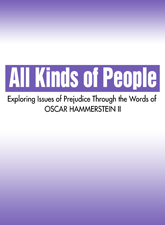 All Kinds of People
Throughout a career that spanned four decades, Oscar Hammerstein II used the theatre to promote human understanding. He continually tackled themes of racism and cultural bias, changing the very course of musical theatre in the process. ALL KINDS OF PEOPLE is a musical revue developed especially for schools (running time: 50 minutes) that addresses the dangers of prejudice, the importance of tolerance and the empowerment of self-esteem. These issues are considered through such songs as 'Ol' Man River' from Hammerstein's 1927 masterpiece SHOW BOAT, 'You've Got To Be Carefully Taught' from his Pulitzer Prize winning SOUTH PACIFIC, and many others from such beloved musicals as THE KING AND I, FLOWER DRUM SONG, THE SOUND OF MUSIC and CAROUSEL. Oscar Hammerstein believed wholeheartedly in celebrating our differences instead of fearing them, as simply and eloquently expressed in his musical PIPE DREAM – 'It takes all kinds of people to make up a world.'
Klavieruittreksels en eventuele libretto dienen apart besteld te worden s.v.p. aangeven op het offerteformulier.
Vraag een licentie voor opvoering aan
Kies eerst de juiste instrumentale bezetting, alvorens de offerte aan te vragen.

Instrumentatie: 10 – Libretto/Piano Vocal Book

PRINCIPALS
2 Women
2 Men

COMMENTS
The cast can easily be expanded to include as many as desired, and the revue can be performed either by students, adults or both.