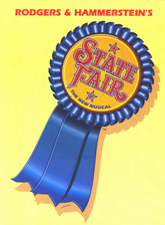 State Fair
Rodgers & Hammerstein's only musical written directly for the screen is now a stage musical that's had critics raving from coast to coast. Set against the colorful backdrop of an American heartland tradition, STATE FAIR travels with the Frake family as they leave behind the routine of the farm for three days of adventure at the annual Iowa State Fair. Mom and Pop have their hearts set on blue ribbons while their daughter and son find romance and heartbreak on the midway. Set to the magical strains of an Academy Award-winning score and augmented by other titles from the Rodgers and Hammerstein songbook, STATE FAIR is the kind of warm-hearted family entertainment only Rodgers & Hammerstein could deliver!
Klavieruittreksels en eventuele libretto dienen apart besteld te worden s.v.p. aangeven op het offerteformulier.
Vraag een licentie voor opvoering aan
Kies eerst de juiste instrumentale bezetting, alvorens de offerte aan te vragen.

Instrumentatie: State Fair - Orchestration Package (22 Books)

1 – PIANO CONDUCTOR SCORE
1 – REED I (Flute, Piccolo, Alto Sax)
1 – REED II (Oboe, English Horn, Alto Sax)
1 – REED III (Clarinet, Tenor Sax)
1 – REED IV (Bassoon, Bass Clarinet, Tenor Sax)
1 – FRENCH HORN I
1 – FRENCH HORN II
1 – TRUMPET I
1 – TRUMPET II
1 – TRUMPET III
1 – TROMBONE I
1 – TROMBONE II
1 – TUBA
1 – DRUMS
1 – PERCUSSION
1 – HARP
1 – KEYBOARD
1 – VIIOLIN I
1 – VIOLIN II
1 – VIOLA
1 – CELLO
1 – BASS
PRINCIPALS
3 Women
3 Men

FEATURED
4 Women
1 Girl (age 11)
6 Men

ENSEMBLE
Singing-dancing ensemble consisting of Barkers, Vendors, Judges, and Fairgoers

CHARACTERS
Abel Frake - a farmer
Gus - the Frake's hired man
Margy Frake - the Frake's faughter
Melissa Frake - Abel's wife
Wayne Frake - the Frake's son
Dave Miller - the local storekeeper
Eleanor - Wayne's girlfriend
Harry - Margy's boyfriend
The Fair Announcer
The Hoop-La Barker
Emily Arden
The Astounding Stralenko
Vivian - a cooch dancer
Jeanne - a cooch dancer
Pat Gilbert - a newspaper reporter
Charlie - a newspaper photographer
Lem - a farmer
Clay - a farmer
Hank Munson - a farmer
The Chief of Police
Violet - his daughter
The Fairtones
Judge Heppenstahl
Mrs. Edwin Metcalf of Pottsville
2 Roustabouts
Barkers, Vendors, Judges and Fairgoers