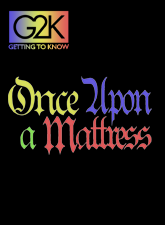 G2K Once Upon a Mattress
The 'G2K' Getting To Know Series: Uniquely adapted musicals specifically for youth performers.
If you thought you knew the story of 'The Princess and The Pea,' you may be in for a walloping surprise! Did you know, for instance, that Princess Winnifred actually swam the moat to reach Prince Dauntless the Drab? Or that it may not have been the pea at all that caused the princess a sleepless night? Carried on a wave of beguiling songs, by turns hilarious and raucous, romantic and melodic, this rollicking spin on the familiar classic of royal courtship and comeuppance provides for some side-splitting shenanigans. Chances are, you'll never look at fairy tales quite the same way again.
In this adaptation for pre-high school students, the content has been edited to better suit younger actors and audiences, but all the magic, hilarity and fun of the original are still in place. G2K… ONCE UPON A MATTRESS is the perfect show to introduce young people to the magic of live theater.
PLEASE NOTE: All schools wishing to peruse or perform a G2K musical should contact the R&H Theatricals Europe Concert Library at concerthire@rnh.com or +44 (0)20 7054 7241. Community theatres and youth organisations should apply by clicking on the license button below. For questions related to G2K musicals, contact an R&H representative at +44 (0)20 7054 7200.
Vraag een licentie voor opvoering aan
Kies eerst de juiste instrumentale bezetting, alvorens de offerte aan te vragen.

Instrumentatie: 1 – Digital Resources Download 1 – Guide to Choreography & Staging (DVD) 1 – Production Guide 1 – Vocal Tracks (CD)

Instrumentatie: ADDITIONAL Pre Production Package 1 – Piano Vocal Score 1 – Student Script

Instrumentatie: Show Kit 30 – Student Script 1 – Piano Vocal Score 1 – Accompaniment Tracks (CD) 1 – Digital Resources Disc (CD)

PRINCIPALS
3 Women (Princess Winnifred the Woebegone, Queen Aggravain, Lady Larken)
5 Men (Prince Dauntless the Drab, Sir Harry, The Minstrel, The Jester, The Silent King)

FEATURED
1 Woman (Lady Beatrice)
1 Man (The Wizard)

ENSEMBLE
Singers and dancers portraying the Ladies and Knights of the Kingdom.

CHARACTERS
Princess Winnifred the Woebegone
Prince Dauntless the Drab
Queen Aggravain
The Silent King
Lady Larken
Sir Harry
The Minstrel
The Jester
The Wizard
Lady Lucille
Sir Studley
Lady Rowena
Lady Beatrice
Sir Harold
Princess No. 12
Ladies and Knights of the Kingdom