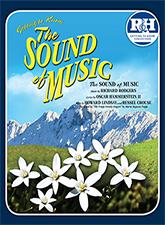 G2K The Sound of Music
Getting to Know… The Sound of Music is the newest adaptation in the Getting to Know Collection, unique musicals designed for youth performers.
The final collaboration between Rodgers & Hammerstein – The Sound of Music – was destined to become the world's most beloved musical. When a postulant proves too high-spirited for the religious life, she is despatched to serve as governess for the seven children of a widowed naval Captain. Her growing rapport with the youngsters, coupled with her generosity of spirit, gradually captures the heart of the stern Captain, and they marry. Upon returning from their honeymoon they discover that Austria has been invaded by the Nazis, who demand the Captain's immediate service in their navy. The family's narrow escape over the mountains to Switzerland on the eve of World War II provides one of the most thrilling and inspirational finales ever presented in the theatre. The motion picture version remains the most popular movie musical of all time.
Created by Rodgers & Hammerstein with iTheatrics, Getting to Know… The Sound of Music has been edited to better suit younger performers, but all the elements that make this show a classic are still in place. You and your students will be enchanted by the timeless story and the dazzling score, while at the same time learning about theatre and its production.
MATERIALS NOW AVAILABLE
Vraag een licentie voor opvoering aan
Kies eerst de juiste instrumentale bezetting, alvorens de offerte aan te vragen.

Instrumentatie: 1 – Guide to Choreography & Staging (DVD) 1 – Digital Resources Download 1 – Accompaniment Tracks (CD) 1 – Production Guide

Instrumentatie: ADDITIONAL GETTING TO KNOW ... THE SOUND OF MUSIC-Pre-Production Pack 1 – Piano Vocal Score 1 – Student Script

Instrumentatie: Show Kit 30 – Student Script 1 – Piano Vocal Score 1 – Vocal Tracks (CD) 1 – Digital Resources Disc (CD)