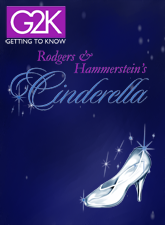 G2K Cinderella
The 'G2K' Getting To Know Series: Uniquely adapted musicals specifically for youth performers.
The timeless enchantment of a magical fairy tale is reborn with the Rodgers & Hammerstein hallmarks of originality, charm and elegance. Originally presented on television in 1957 starring Julie Andrews, Rodgers & Hammerstein's CINDERELLA was the most widely viewed program in the history of the medium. Its recreation in 1965 starring Lesley Ann Warren was no less successful in transporting a new generation to the miraculous kingdom of dreams-come-true, and so was a second remake in 1997, which starred Brandy as Cinderella and Whitney Houston as her Fairy Godmother. As adapted for the stage, with great warmth and more than a touch of hilarity, the hearts of children and adults alike still soar when the slipper fits.
In this specially created G2K version, all the beloved songs and familiar characters are present and accounted for. However, the entire script has been condensed to better suit young attention spans, and the plot has been slightly altered so as to highlight some important lessons that exist in this timeless tale.
PLEASE NOTE: All schools wishing to peruse or perform a G2K musical should contact the R&H Theatricals Europe Concert Library at concerthire@rnh.com or +44 (0)20 7054 7241. Community theatres and youth organisations should apply by clicking on the license button below. For questions related to G2K musicals, contact an R&H representative at +44 (0)20 7054 7200.
Vraag een licentie voor opvoering aan
Kies eerst de juiste instrumentale bezetting, alvorens de offerte aan te vragen.

Instrumentatie: No orchestrations are given out beyond the Piano/Vocal Score as part of the G2K Collection

PRINCIPALS
6 Women (Cinderella, Her Godmother, Her Stepmother, Portia, Joy, The Queen)
2 Men (The Prince, The King)

FEATURED
2 Men (The Herald, The Chef)

ENSEMBLE
Large singing/dancing ensemble.

CHARACTERS
Cinderella
Her Godmother
Her Stepmother
Portia, her dimwitted Stepsister
Joy, her sullen Stepsister
The Prince
The Herald
The Queen
The King
The Chef
The Steward
White Horses (4)
The Coachman
The Footman
Townspeople
Palace Staff
Guests at the Ball