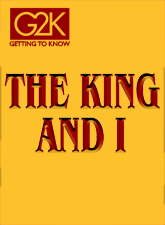 G2K THE KING AND I
The 'G2K' Getting To Know Series: Uniquely adapted musicals specifically for youth performers.
East versus West makes for a dramatic, richly textured and ultimately uplifting tale of enormous fascination. It is 1862 in Siam when an English widow, Anna Leonowens, and her young son arrive at the Royal Palace in Bangkok, having been summoned by the King to serve as tutor to his many children and wives. The King is largely considered to be a barbarian by those in the West and he seeks Anna's assistance in changing his image, if not his ways. With both keeping a firm grip on their respective traditions and values, Anna and the King grow to understand and, eventually, respect one another, in a truly unique love story.
In this adaptation for pre-high school students, the content has been edited to better suit younger attention spans, but all the magic and beauty of the original are still in place. You and your students will be enchanted by the timeless story and the dazzling score, while at the same time learning about theater and its production.
PLEASE NOTE: All schools wishing to peruse or perform a G2K musical should contact the R&H Theatricals Europe Concert Library at concerthire@rnh.com or +44 (0)20 7054 7241. Community theatres and youth organisations should apply by clicking on the license button below. For questions related to G2K musicals, contact an R&H representative at +44 (0)20 7054 7200.
Vraag een licentie voor opvoering aan
Kies eerst de juiste instrumentale bezetting, alvorens de offerte aan te vragen.

Instrumentatie: Op Aanvraag

PRINCIPALS
3 Women (Anna Leonowens, Lady Thiang, Tuptim)
1 Man (The King)
2 Boys (Louis Leonowens, Prince Chulalongkorn)

FEATURED
1 Woman (Ying)
3 Men (Lun Tha, Sir Edward Ramsay, The Kralahome)

COMMENTS
Ying is the narrator of the story. This character has been created expressly for this adaptation and does not appear in the musical The King and I.

CHARACTERS
Ying, the narrator
Captain Orton, a sea captain
Louis Leonowens, Anna?s son
Anna Leonowens, an English schoolteacher
The Interpreter
The Kralahome, the King?s executive officer
The King of Siam
Lun Tha, an emissary from Burma
Tuptim, a girl from Burma
Lady Thiang, the King?s head wife
Prince Chulalongkorn, heir to the throne
Princess Ying Yaowalak, a royal daughter
Sir Edward Ramsay, a British diplomat
Chorus of Sailors
Palace Guards
Royal Wives and Royal Children

Characters in ?The Small House of Uncle Thomas?:
Uncle Thomas
Eva
Topsy
Eliza
King Simon of Legree
Angel/George
Simon?s Slaves
Simon?s Soldiers
Search Dogs
Buddha
?Rain Storm?
?Mountain?
?Snowflakes?
?Forest?
Musicians