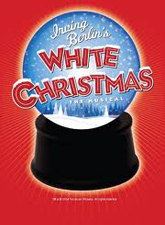 White Christmas
Based on the beloved, timeless film, this heartwarming musical adaptation features seventeen Irving Berlin songs and a book by David Ives and Paul Blake.
Veterans Bob Wallace and Phil Davis have a successful song-and-dance act after World War II. With romance in mind, the two follow a duo of beautiful singing sisters en route to their Christmas show at a Vermont lodge, which just happens to be owned by Bob and Phil's former army commander. The dazzling score features well known standards including Blue Skies, I Love A Piano, How Deep Is the Ocean and the perennial favorite, White Christmas. WHITE CHRISTMAS is an uplifting musical worthy of year-round productions.
Klavieruittreksels en eventuele libretto dienen apart besteld te worden s.v.p. aangeven op het offerteformulier.
Vraag een licentie voor opvoering aan
Kies eerst de juiste instrumentale bezetting, alvorens de offerte aan te vragen.

Instrumentatie: Orchestration Package (23 Books)

1 – PIANO CONDUCTOR SCORE
1 – REED I (Flute, Piccolo, Clarinet, Alto Saxophone (Lead Flute))
1 – REED II (Flute, Clarinet, Alto Saxophone (Lead Clarinet))
1 – REED III (Oboe, English Horn, Clarinet, Tenor Saxophone)
1 – REED IV (Clarinet, Bass Clarinet, Tenor Saxophone)
1 – Reed V (Bassoon, Clarinet, Bass Clarinet, Baritone Saxophone)
1 – Horn
1 – TRUMPET I
1 – TRUMPET II
1 – TRUMPET III
1 – TROMBONE I (Tenor Trombone)
1 – TROMBONE II (Tenor Trombone)
1 – TROMBONE III (Bass Trombone)
1 – DRUMS (Traps, Mark Tree, Triangle)
2 – PERCUSSION (see list below)
1 – KEYBOARD I (Piano, Synth) (see list below)
1 – KEYBOARD II (Synth) (see list below)
3 – VIOLINS (Divisi)
1 – CELLO (Divisi)
1 – BASS
PRINCIPALS
3 Women
3 Men
1 Young Girl

FEATURED
2 Women
3 Men

ENSEMBLE
Large singing-dancing ensemble consisting of 'Jimmy's Back Room' Clubgoers, Train Passengers, Inn Guests, Chorus Kids, Patrons of the Regency Room

CHARACTERS
Bob Wallace - late 20's to mid 30's, a superb singer with a crooning style who moves well.
Phil Davis - late 20's to mid 30's, strong jazz and tap-dancing needed - a song-and-dance comic performer.
Betty Haynes - mid to late 20's, a female singer of quiet beauty and charm who must move well.
Judy Haynes - early 20's, strong jazz and tap-dancing needed - a major song-and-dance performer.
General Henry Waverly - late 50's to mid 60's, with the exception of one line, a non-singing role.
Martha Watson - late 40's to mid 60's, a winning, appealing character-comedienne
Susan Waverly - 9 years old, she must have an excellent belt voice and be able to move well.
Ralph Sheldrake - mid to late 30's
Rita - mid 20's to early 30's
Rhoda - mid 20's to early 30's
Ezekiel Foster - mid 40's to late 50's
Mike - mid 20's to late 30's
Tessie
Jimmy
Cigarette Girl
Snoring Man
Mrs. Snoring Man
Train Conductor
Dance Captain
Seamstress
Assistant Seamstress
Ed Sullivan Announcer
Regency Room Announcer - offstage voice
Sheldrake's Secretary - offstage voice
'Jimmy's Back Room' Clubgoers
Train Passengers
Inn Guests
Chorus Kids
Patrons of the Regency Room