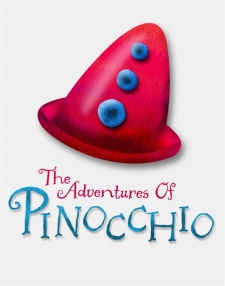 The Adventures of Pinocchio
The traditional Italian story of a wooden puppet yearning to be a real boy springs to life with inventive and awe-inspiring puppetry. Carved out of wood by the lonely toymaker Geppetto, Pinocchio tumbles from one disastrous situation to another in search of adventure—only to discover that, in the end, all he really needs is an unselfish heart and the love of his father. Based on Carlo Collodi's classic tale, this family musical illuminates the bond between parents and children in a magical performance that is sure to enchant audiences of all ages!
TYA (Theatre for Young Audiences)
Running time: 1 hour, 15 minutes; no intermission
Vraag een licentie voor opvoering aan
Kies eerst de juiste instrumentale bezetting, alvorens de offerte aan te vragen.

Instrumentatie: The Adventures of Pinocchio (Full package)

12 Libretto
14 Piano-Vocal
1 Piano-Conductor
1 Keyboard
1 Woodwind
1 Percussion
1 Guide Vocal Tracks (Digital Download)
1 Accompaniment Tracks (Digital Download)
1 Logo Pack
Instrumentatie: The Adventures of Pinocchio (Piano only)

12 Libretto
14 Piano-Vocal
1 Guide Vocal Tracks (Digital Download)
1 Accompaniment Tracks (Digital Download)
1 Logo Pack
Medium (5-21_
Principal: 5 Men, 5 Women
All of the named characters may double as ensemble members with the exception of The Storyteller/Fairy, Geppetto and Pinocchio