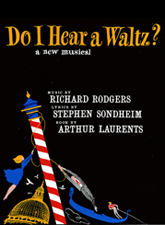 Do I Hear a Waltz?
Leona, an unmarried American secretary "of a certain age," goes on a vacation to Venice where, under the spell of that enchanted city, she falls in love. The gentleman is an attractive, middle-aged shopkeeper, whose attentions give flight to her deepest dreams of romance. Too soon, however, he openly informs her that he is a contented family man, and Leona's hopes are dashed. She can, for a short time, harness romance, yet realizes that such a relationship would have nowhere to go. Still, might it be better than never having loved at all?
This timeless story, which was also the basis of the movie Summertime starring Katharine Hepburn, remains a bittersweet testament to the complexities of the heart.
Vraag een licentie voor opvoering aan
Kies eerst de juiste instrumentale bezetting, alvorens de offerte aan te vragen.

Instrumentatie: full package (Do I Hear a Waltz?)

22 Libretto-Vocal Book
1 Piano-Conductor
1 Reed 1
1 Reed 2
1 Reed 3
1 Reed 4
1 Trumpet 1&2
1 Trombone 1
1 Trombone 2
1 Trombone 3
1 Harp
1 Guitar
1 Percussion
1 Violin A&B
1 Viola
1 Cello
1 Bass
1 Logo Pack
Instrumentatie: piano only (Do I Hear a Waltz?)

22 Libretto-Vocal Book
1 Piano-Conductor
1 Logo Pack
PRINCIPALS
4 Women
3 Men

FEATURED
1 Woman
1 Man
1 Boy

ENSEMBLE
Singing-dancing ensemble

CHARACTERS
Mauro
Leona Samish
Fioria
Eddie Yeager
Jennifer Yeager
Mr. McIlhenny
Mrs. McIlhenny
Giovanna
Vito
Renato Di Rossi