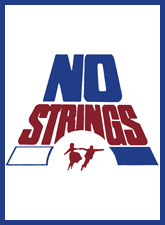 No Strings
A successful high-fashion model meets and falls in love with a writer in Paris. While this Pulitzer prizewinner has been trying to recover from a prolonged case of writer's block, he's assumed the dubious role of charming intellectual-in-residence at some of the Continent's more luxurious watering holes. As the model's work takes them on a whirlwind tour of the most exclusive European playgrounds, their romance develops into the first deeply-felt, honest relationship either has ever known. The model, however, ruefully comes to realize that the life-style demanded by her career is stifling the writer, and if he's ever to fulfill the promise of his earlier work, he must take responsibility for himself, go home, and write. Reluctantly, but with no strings, they part, each having discovered anew their capacity to love.
Vraag een licentie voor opvoering aan
Kies eerst de juiste instrumentale bezetting, alvorens de offerte aan te vragen.

Instrumentatie: full package (No Strings)

15 Libretto
15 Piano-Vocal
1 Reed 1
1 Reed 2
1 Reed 3
1 Reed 4
1 Reed 5
1 Reed 6
1 Reed 7
1 Reed 8
1 Trumpets 1 & 4
1 Trumpets I2 & 3
1 Trombone 1
1 Trombone 2
1 Trombone 3
1 Drums
1 Percussion
1 Guitar
1 Harp
1 Bass
1 Logo Pack
Instrumentatie: piano only (No Strings)

15 Libretto
15 Piano-Vocal
1 Logo Pack
PRINCIPALS
1 Woman
1 Man

FEATURED
4 Women
4 Men

ENSEMBLE
Singing-dancing ensemble

CHARACTERS
Barbara Woodruff
David Jordan
Jeanette Valmy
Luc Delbert
Mollie Plummer
Mike Robinson
Louis dePourtal
Comfort O'Connell
Gabrielle Bertin
Marcello Agnolotti