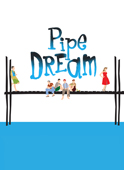 Pipe Dream
From the pages of Steinbeck, the drifters and dropouts along Cannery Row spring to life in this uncommon story of love and hope. When Suzy, a homeless girl, is picked up for stealing food, she's taken in by Fauna, the big-hearted Madam of the Bear Flag Café (which is no café at all). Here she meets Doc, a carefree marine biologist, and soon romance is in the air. Rodgers & Hammerstein struck a new tone with PIPE DREAM-intimate, warm and highly personal. It illuminates their benevolence for those searching outcasts who, although seamy and degraded, are infinitely capable of every emotion and longing felt by the more fortunate members of society. As sung by Doc at the top of the show, the soulful message is simple: 'It takes all kinds of people to make up a world.' Is there a better one?
Currently Not Available.
Vraag een licentie voor opvoering aan
Kies eerst de juiste instrumentale bezetting, alvorens de offerte aan te vragen.

Instrumentatie: full package (Pipe Dream)

29 Libretto-Vocal Book
1 Piano-Vocal
1 Flute
1 Clarinet 1
1 Clarinet 2
1 Horn 1&2
1 Trumpet 1&2
1 Trombone
1 Piano
1 Percussion
1 Violin A
1 Violin B-D
1 Viola
1 Cello
1 Bass
1 Logo Pack
Instrumentatie: piano only (Pipe Dream)

29 Libretto-Vocal Book
1 Piano-Vocal
1 Logo Pack
PRINCIPALS
2 Women
3 Men

FEATURED
8 Women
14 Men

ENSEMBLE
A singing-dancing ensemble with many small roles.

CHARACTERS
Doc
Hazel
Millicent Henderson
Mac
Suzy
Fauna
Jim Blaikey
Ray Busch
George Herman
Bill
Red
Whitey
Dizzy
Eddie
Alec
Joe
Pancho
Agnes
Magle
Emma
Beulah
Marjorie
Cho Cho Sen
Sumi
Sonny Boy
Esteban
A Waiter
Harriet
Hilda
Fred
Slick
Slim
Basha
Bubbles
Sonya
Kitty
Weirde
Johnny Carriagra
Pedro
Dr. Ormondy