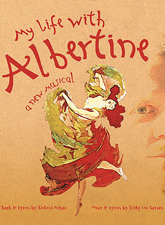 My Life with Albertine
The musical focuses on Proust's obsession with his red-haired mistress, Albertine. Departing from the typical 'boy meets girl' plot, it explores the darkness of jealousy. Young Marcel, the hero, irrationally believes that Albertine is having lesbian affairs while older Marcel (played by a different actor), reflects on this seminal period in his young life interacting with himself at 17. Simple lullabies and children's songs reflecting Marcel's childish character before his affair are juxtaposed with operatic dirges, capturing the tragic effect of his self-inflicted destruction of happiness. This fascinating play preserves both the essence and themes of Proust's work.
Vraag een licentie voor opvoering aan
Kies eerst de juiste instrumentale bezetting, alvorens de offerte aan te vragen.

Instrumentatie: full package (My Life with Albertine)

18 Libretto-Vocal Book
1 Piano-Conductor
1 Reed 1
1 Reed 2
1 Trombone
1 Accordion
1 Percussion
1 Violin
1 Cello
1 Logo Pack
Instrumentatie: piano only (My Life with Albertine)

18 Libretto-Vocal Book
1 Piano-Conductor
1 Logo Pack
PRINCIPALS
3 Women
2 Men

FEATURED
3 Women
4 Men

ENSEMBLE
Singing ensemble with many small roles.

COMMENTS
MY LIFE WITH ALBERTINE requires a strong cast of singers. The ensemble is traditional Soprano/Alto/Tenor/Bass, but they need to be good because the choral work is challenging, bringing the tenor to B-flat and the basses to G. They split up doing various roles-The Stroller, The Messengers, The Bathers. I leave that up to choice, but strongly suggest that a highly proficient group of singers be used for the cast of this show as its challenges are almost operatic.
-Ricky Ian Gordon

CHARACTERS
Narrator, 40s
Marcel, 18-20
Albertine, 17-19
Grandmother
Francoise
Elstir
Cottard
Lift boy
Messengers
Pianist
Andree
Rosemonde
Mlle. Lea, a cabaret singer
A Young Woman
Three Men
Ensemble - Strollers, bathers, mourners, cabaret audience, tango dancers, street singers, chorus: played by the company