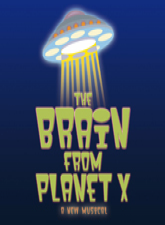 The Brain From Planet X
A hilarious musical send-up of bad 50's sci-fi movies, THE BRAIN FROM PLANET X tells the story of an alien invasion circa 1958. A Brain and its two alien cohorts arrive on Earth with a plan to take over the San Fernando Valley – starting with a happy nuclear family. It's the first step on the road to their quest of taking over the entire planet and destroying the family unit. This rousing, toe-tapping musical features a dancing, singing brain … what more could you want from a musical?
Vraag een licentie voor opvoering aan
Kies eerst de juiste instrumentale bezetting, alvorens de offerte aan te vragen.

Instrumentatie: Orchestration Package (5 Books)

1 – PIANO CONDUCTOR SCORE
1 – REED (Alto Sax, Tenor Sax, Flute, Clarinet, Bs Clarinet)
1 – ACOUSTIC BASS/BASS GUITAR
1 – DRUMS: Trap Set, Toms (High and Low), Tam-Tam, Bells, Mark Tree, Wood Block, Wind Chimes, Police Whistle, Triangle, Tambourine [Mallets, Sticks, Brushes]
1 – SYNTHESIZER
PRINCIPALS
3 Women
4 Men

FEATURED
2 Men

ENSEMBLE
Singing-dancing ensemble of Townspeople, Newscasters and Aliens

CHARACTERS
Narrator/Professor Leder
Fred Bunson
Joyce Bunson
Donna Bunson
Rod
General Mills
Private Partz
Zubrick
Yoni
The Brain
Townspeople, Newscasters and Alien Tappers