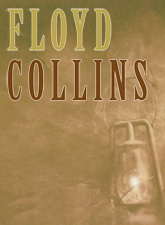 Floyd Collins
In 1925, while chasing a dream of fame and fortune by turning a Kentucky cave into a tourist attraction, Floyd Collins himself became the attraction when he got trapped 200 feet underground. Alone but for sporadic contact with the outside world, Floyd fought for his sanity and ultimately his life as the rescue effort above exploded into the first genuine media circus. Reporters and gawkers from across the country descended on the property, fueling the hysteria and manipulating the nation into holding its collective breath. This haunting musical – one of the most acclaimed in recent years – tells the transcendent tale of a true American dreamer.
Vraag een licentie voor opvoering aan
Kies eerst de juiste instrumentale bezetting, alvorens de offerte aan te vragen.

Instrumentatie: full package (Floyd Collins)

15 Libretto-Vocal Book
1 Piano-Conductor
1 Harmonica
1 Keyboard
1 Guitar
1 Percussion
1 Violin
1 Viola
1 Cello
1 Bass
1 Logo Pack
Instrumentatie: piano only (Floyd Collins)

15 Libretto-Vocal Book
1 Piano-Conductor
1 Logo Pack
PRINCIPALS
2 Women
4 Men

FEATURED
7 Men

ENSEMBLE
Consists of characters at the Carnival - Hawkers, Con Man, Jugglers, Sparkplug Eddie Bray, et al.

CHARACTERS
Floyd Collins - a caver
Bee Doyle - owner of the farm in which Floyd becomes trapped
Ed Bishop - a local caver
Jewell Estes - a local teenage boy
Lee Collins - Floyd's father
Miss Jane - Floyd's stepmother
Nellie Collins - Floyd's younger sister
Homer Collins - Floyd's younger brother
Skeets Miller - a reporter for the Louisville Courier-Journal
H.T. Carmichael - an engineer
3 Reporters
Cliff Roney - a young filmmaker
Dr. Hazlett - a doctor from Chicago
Frederick Jordan - a local farmer