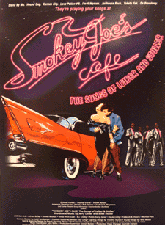 Smokey Joe's Cafe – The Songs of Leiber and Stoller
Leiber and Stoller, as much as anyone, virtually invented rock 'n' roll, and now their songs provide the basis for an electrifying entertainment that illuminates a golden age of American culture. In an idealized '50's setting, the classic themes of love won, lost and imagined blend with hilarious set-pieces and slice-of-life emotions. Featuring nearly 40 of the greatest songs ever recorded, SMOKEY JOE'S CAFE isn't just great pop music – it's compelling musical theatre.
Vraag een licentie voor opvoering aan
Kies eerst de juiste instrumentale bezetting, alvorens de offerte aan te vragen.

Instrumentatie: full package (Smokey Joe's Cafe)

11 Libretto-Vocal Book
1 Keyboard 1-Conductor
1 Saxophone
1 Guitar
1 Keyboard 2
1 Drums
1 Percussion
1 Bass
1 Logo Pack
Instrumentatie: piano only (Smokey Joe's Cafe)

11 Libretto-Vocal Book
1 Keyboard 1-Conductor
1 Logo Pack
PRINCIPALS
4 Women
5 Men

COMMENTS
Can be easily expanded.
For the purposes of this script, the characters are identified by the names of the actors who created the roles in the original Broadway production. In subsequent productions they should be identified by the names of the actors playing the roles.

CHARACTERS
Ken - the smoothie who, along with Victor, Adrian, and Fred, makes up a quartet modeled on The Drifters
Adrian - the slow one of the quartet
Frederick - the implacable bass of the quartet
Victor - the preening bad-boy who gets most of the comedy
Michael - genuinely suave and impressive, evokes the memory of Elvis
Brenda - a combination of savvy, wit, brains and beauty
B.J. - inspired by the titanic rhythm and blues shouter Big Mama Thornton
Pattie - the throaty voice of experience
DeLee - suggests the innocence of teenage girls, but with a wild streak