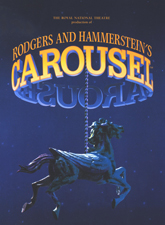 Carousel: A Concert
Music by RICHARD RODGERS
Lyrics and Book by OSCAR HAMMERSTEIN II
Based on FERENC MOLNAR's Play 'Liliom', as adapted by Benjamin F. Glazer
Originally produced by the Theatre Guild, CAROUSEL opened at the Majestic Theatre in New York City on April 19, 1945, and ran for 890 performances. It won the New York Drama Critics Circle Award for Best Musical 1944-1945, and 8 Donaldson Awards.
Vraag een licentie voor opvoering aan
Kies eerst de juiste instrumentale bezetting, alvorens de offerte aan te vragen.

Instrumentatie: Orchestration Package (26 Books)

1 – FLUTE I (Doubling Piccolo)
1 – PIANO VOCAL SCORE
1 – FLUTE II (Doubling Piccolo)
1 – OBOE (Doubling English Horn)
1 – CLARINET I
1 – CLARINET II
1 – BASSOON (Optional Bass Clarinet)
1 – HORN I
1 – HORN II
1 – HORN III
1 – TRUMPET I
1 – TRUMPET II
1 – TROMBONE I
1 – TROMBONE II
1 – TROMBONE III
1 – TUBA
1 – PERCUSSION
1 – HARP
2 – VIOLIN I (Divisi)
2 – VIOLIN II (Divisi)
2 – VIOLA (Divisi)
2 – CELLO (Divisi)
1 – BASS
Instrumentatie: Carousel - Two Piano Arrangement (2 Act I, 2 Act Ii)

2 – TWO PIANO ARRANGEMENT - Act I
2 – TWO PIANO ARRANGEMENT - Act II
13 Women
16 Men
(There are 9 principal roles: 5 for Women, 4 for Men.)