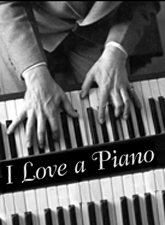 I Love a Piano
I LOVE A PIANO is the celebration of the music and lyrics of Irving Berlin. It follows the journey of a piano as it moves in and out of American lives from the turn of the century to the present. Along the way, the story comes to vibrant life with over sixty of Irving Berlin's most beloved songs, including classics such as 'Blue Skies,' 'There's No Business Like Show Business,' 'Puttin' on the Ritz,' 'Cheek to Cheek,' 'Always,' 'How Deep is the Ocean,' 'Anything You Can Do,' 'God Bless America,' and, of course, 'I Love a Piano.'
Alternately heartbreaking and hilarious, rousing and reflective, I LOVE A PIANO is a fitting tribute to the man Jerome Kern famously said had 'no place in American music – he is American music.'
Klavieruittreksels en eventuele libretto dienen apart besteld te worden s.v.p. aangeven op het offerteformulier.
Vraag een licentie voor opvoering aan
Kies eerst de juiste instrumentale bezetting, alvorens de offerte aan te vragen.

Instrumentatie: Orchestration Package (8 Books)

1 – PIANO-CONDUCTOR SCORE
1 – DRUMS (see list below)
1 – BASS (Doubles Tuba)
1 – GUITAR (Acoustic Guitar, Banjo, Ukulele)
1 – TROMBONE
1 – TRUMPET
1 – REED (Clarinet, Tenor Sax, Flute, Piccolo)
1 – VIOLIN
PRINCIPALS
3 Men
3 Women

COMMENTS
I LOVE A PIANO requires 6 triple-threat performers. While the cast retain their identities and names throughout the show, they play different characters in different time periods.