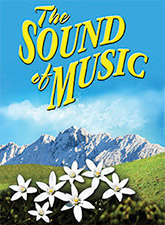 The Sound of Music
The final collaboration between Rodgers & Hammerstein was destined to become the world's most beloved musical. When a postulant proves too high-spirited for the religious life, she is dispatched to serve as governess for the seven children of a widowed naval Captain. Her growing rapport with the youngsters, coupled with her generosity of spirit, gradually captures the heart of the stern Captain, and they marry. Upon returning from their honeymoon they discover that Austria has been invaded by the Nazis, who demand the Captain's immediate service in their navy. The family's narrow escape over the mountains to Switzerland on the eve of World War II provides one of the most thrilling and inspirational finales ever presented in the theatre. The motion picture version remains the most popular movie musical of all time.
PLEASE TAKE NOTE: The songs "Something Good" and "I have confidence" are not included in the standard instrumental set.
Vraag een licentie voor opvoering aan
Kies eerst de juiste instrumentale bezetting, alvorens de offerte aan te vragen.

Instrumentatie: Orchestration Package (25 Books)

1 – PIANO VOCAL SCORE
1 – FLUTE I
1 – FLUTE II (Doubling Piccolo)
1 – OBOE (Doubling English Horn)
1 – CLARINET I
1 – CLARINET II
1 – BASSOON
1 – HORN I
1 – HORN II
1 – HORN III
1 – TRUMPET I
1 – TRUMPET II
1 – TRUMPET III
1 – TROMBONE I
1 – TROMBONE II
1 – TUBA
1 – PERCUSSION
1 – GUITAR (Doubling Mandolin)
1 – HARP
1 – OPTIONAL PIANO
1 – VIOLIN I (Divisi)
1 – VIOLIN II (Divisi)
1 – VIOLA (Divisi)
1 – CELLO (Divisi)
1 – BASS
Instrumentatie: 2 PIANO VERSION

2 - Two Piano Arrangement - Act 1
2 - Two Piano Arrangement - Act 2
PRINCIPALS 3 Women 5 Girls (ages 5, 7, 9, 13 and 16) 2 Men 2 Boys (ages 11 and 14) FEATURED 4 Women 2 Men ENSEMBLE Neighbors of Captain von Trapp, nuns, novices, postulants, and contestants at the Festival Concert CHARACTERS Maria Rainer - a Postulant at Nonnberg Abbey The Mother Abbess Sister Berthe - Mistress of Novices Sister Margaretta - Mistress of Postulants Sister Sophia Captain Georg von Trapp Franz - the butler Frau Schmidt - the housekeeper Liesl von Trapp - age 16 Friedrich von Trapp - age 14 Louisa von Trapp - age 13 Kurt von Trapp - age 10 Brigitta von Trapp - age 9 Marta von Trapp - age 7 Gretl von Trapp - the youngest Rolf Gruber - age 17 Elsa Schraeder Ursula Max Detweiler Herr Zeller Baron Elberfeld A New Postulant Admiral von Schreiber Neighbors of Captain von Trapp, nuns, novices, postulants, and contestants at the Festival Concert