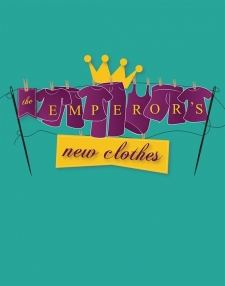 The Emperor's New Clothes
The frivolously fashionable Emperor and his opinionated daughter Sam just can't get along. But with the help of some colourful characters and not-so-colourful threads, the two come to see themselves—and appreciate each other—for the first time. This family musical based on the classic Hans Christian Andersen fairy tale promises to warm the hearts of children and adults alike!
TYA (Theatre for Young Audience)
Running time: 1 hour 15 minutes, no intermission
Vraag een licentie voor opvoering aan
Kies eerst de juiste instrumentale bezetting, alvorens de offerte aan te vragen.

Instrumentatie: The Emperor's New Clothes (Full package)

Full Package Rentals
9 Libretto-Vocal Book
1 Piano-Conductor
1 Reed 1
1 Reed 2
1 Bass
1 Drums
1 Accompaniment Tracks (Digital Download)
1 Logo Pack
Instrumentatie: The Emperor's New Clothes (Piano only)

9 Libretto-Vocal Book
1 Piano-Conductor
1 Accompaniment Tracks (Digital Download)
1 Logo Pack
Small (1-10), Medium (5-21)
Principal: 5 men, 2 Women