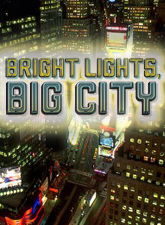 Bright Lights, Big City
Based on the novel of the same name, this show follows Jamie, an aspiring writer stuck in fact-checking, as he hides from pain and loss by partying in the drug-infested clubs of Manhattan during the 1980s. The rock-n-roll score provides a robust sound that echoes Jamie's inner torment as he wanders aimlessly through the city's seedy party scene. After losing his wife and job, Jamie spirals out of control. Fortunately for him, the bonds of family and the promise of love are strong enough to intervene and provide a way out. BRIGHT LIGHTS, BIG CITY carries the message of hope for the future, no matter what is at present.
Vraag een licentie voor opvoering aan
Kies eerst de juiste instrumentale bezetting, alvorens de offerte aan te vragen.

Instrumentatie: Orchestration Package (6 Books)

1 – KEYBOARD I/CONDUCTOR
1 – KEYBOARD II
1 – GUITAR I (Acoustic Twelve String and Electric)
1 – GUITAR II (Six String Acoustic and Electric. Also Mandolin.)
1 – BASS (Fender and Fretless)
1 – DRUMS (Kit plus Percussion and V-Drums)
PRINCIPALS
4 Women
3 Men

FEATURED
3 Women
2 Men

ENSEMBLE
Ensemble can be small or large, some featured roles can double in the chorus.

CHARACTERS
Jamie - Mid 20's New Yorker reeling from a year of devastating events. Attractive and vulnerable.
Tad - Jamie's best friend, party animal, selfish, smart, charismatic.
Mother - Jaime's mother who we see as a youthful Mom and then on her death bed.
Michael - Jamie's younger brother.
Amanda - Jamie's supermodel ex-wife.
Vicky - Tad's cousin, a Princeton student, pretty and likeable.
Clara - Jamie's boss, her exterior masks marshmallow inside.
Coma Baby - A newspaper headline who comes to life in Jamie's mind.
Mary O'Brien McCann - A missing NYU student who appears in Jamie's mind.
Chuck Bean - A rambunctious 'on-the-town' reporter.
Elaine - Odeon club girl.
Theresa - Elaine's 'friend' and fellow clubbie.
Elise - 14 going on 32, club girl who Jamie meets at Odeon.
Chorus - Variety of roles (Fact Checkers, Models, etc) including featured parts (Drug Girl, Paul, etc.).