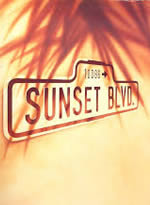 Sunset Boulevard
Based on the Billy Wilder film, the musical version of Sunset Boulevard, with music by Andrew Lloyd Webber and lyrics by Christopher Hampton and Don Black, had its world premiere at London's Adelphi Theatre on July 12th, 1993.
The show received its American premiere on 9th December 1993 at the Shubert Theatre in Los Angeles. The LA production starred Glenn Close (Norma Desmond), Alan Campbell (Joe Gillis), Judy Kuhn (Betty Schaefer) and George Hearn (Max von Mayerling), with Close, Campbell and Hearn going on to recreate their roles for the show's 1994 Broadway opening at the Minskoff Theatre on 17th November 1994 – they were also joined by Alice Ripley as Betty Schaefer. That production opened with the highest advance in Broadway history at the time ($37.5 million in ticket sales).
Sunset Boulevard weaves a magnificent tale of faded glory and unfulfilled ambition. Silent movie star Norma Desmond longs for a return to the big screen, having been discarded by tinsel town with the advent of "talkies." Her glamour has faded in all but her mind. When she meets struggling Hollywood screen-writer Joe Gillis in dramatic circumstances, their subsequent passionate and volatile relationship leads to an unforeseen and tragic conclusion.
The Toronto production of the show opened on 15th October 1995 starring Diahann Carroll (Norma), Rex Smith (Joe) and Walter Charles (Max). The US National Tour of Sunset Boulevard premiered in June 1996 with Linda Balgord in the starring role.
A US Tour opened in Pittsburgh in December 1998 and starred Petula Clark in the lead role, and a UK Tour starring Faith Brown as Norma Desmond and Earl Carpenter as Joe Gillis opened in 2001. In summer 2008, a scaled-down production of Sunset Boulevard played at the Watermill Theatre in Newbury, UK, receiving rave reviews.
Vraag een licentie voor opvoering aan
Kies eerst de juiste instrumentale bezetting, alvorens de offerte aan te vragen.

Instrumentatie: 27 piece version

Line up is flexible, with optional parts listed below
Woodwind I (Piccolo, Flute, Alto Flute)
Woodwind II (Flute, Bb Clarinet, Tenor Sax)
Woodwind III – OPTIONAL (Oboe, Cor Anglais)
Woodwind IV – OPTIONAL (Bassoon)
Horn I
Horn II
Trumpet (doubles Piccolo Trumpet)
Bass Trombone
Percussion I
Percussion II – OPTIONAL
Guitar (Electric and Acoustic)
Keyboard I
Keyboard II
Keyboard III
Keyboard IV – OPTIONAL
Harp – OPTIONAL
Violin I (4 recommended)
Violin II (3 recommended)
Viola (2 recommended)
Cello
Contrabass (doubling Bass Guitar)
PRINCIPALS
2 Women
2 Men

FEATURED
4 Men

CHARACTERS

PRINCIPAL AND FEATURED
Norma Desmond
Joe Gillis
Max Von Mayerling
Betty Schaefer
Cecil B. DeMille
Artie Green
Sheldrake
Manfred

ENSEMBLE CHARACTERS
(in order of appearance)
Myron
Mary
Joanna
First And Second Finance Men
Sammy
Morino
Wunderkind
Myron
Secretary
Cliff
Katherine
Lisa
John
Anita
Adam
Waitress
Actor
Sandy
Larissa
Jane
Glenn
Danielle
Dawn
Barman
First through Seventh Salesmen
Richard
Jean
Actor #4
Guard
Jones
Heather
Hog-Eye
Victor Mature Stand-In (Non-Speaking)
Hedy Lamarr Stand-In (Non-Speaking)
Victor Mature (Non-Speaking)
Hedy Lamarr (Non-Speaking)
Astrologer
Masseuse #1 And #2
Beautician #1, #2, #3
Analyst
Doctor
Journalist
Policeman (Non-Speaking