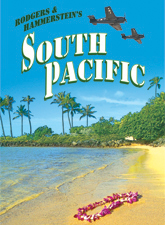 South Pacific: In Concert
Set in an island paradise during World War II, two parallel love stories are threatened by the dangers of prejudice and war. Nellie, a spunky nurse from Arkansas, falls in love with a mature French planter, Emile. Nellie learns that the mother of his children was an island native and, unable to turn her back on the prejudices with which she was raised, refuses Emile's proposal of marriage. Meanwhile, the strapping Lt. Joe Cable denies himself the fulfillment of a future with an innocent Tonkinese girl with whom he's fallen in love out of the same fears that haunt Nellie. When Emile is recruited to accompany Joe on a dangerous mission that claims Joe's life, Nellie realizes that life is too short not to seize her own chance for happiness, thus confronting and conquering her prejudices. This concert adaptation was created by David Ives for the Carnegie Hall benefit concert of SOUTHPACIFIC in 2006.
Vraag een licentie voor opvoering aan
Kies eerst de juiste instrumentale bezetting, alvorens de offerte aan te vragen.

Instrumentatie: full package (South Pacific: In Concert) - Full Package Rentals

30 Libretto-Vocal
1 Piano-Conductor
1 Flute
1 Oboe
1 Clarinet 1
1 Clarinet 2
1 Bassoon
1 Horn 1
1 Horn 2
1 Horn 3
1 Trumpet 1
1 Trumpet 2
1 Trumpet 3
1 Trombone 1
1 Trombone 2
1 Tuba
1 Percussion
1 Harp
1 Violin 1
1 Violin 2
1 Viola
1 Cello
1 Bass
1 String Synthesizer (Optional)
1 Full Score (Act 1)
1 Full Score (Act 2)
Additional Material:
Additional song "My Girl Back Home" is available for an additional fee. Please contact your licensing representative for additional information.
PRINCIPALS
2 Women
2 Men

FEATURED
1 Woman
5 Men
1 Boy
1 Girl

ENSEMBLE
Large singing ensemble consisting of Islanders, Nuns, Officers, Sailors, Marines, and Soldiers

CHARACTERS
Ensign Nellie Forbush
Emile de Becque
Ngana ? his daughter
Jerome ? his son
French Servant
Bloody Mary
Liat ? her daughter
Luther Billis ? a sailor
Stewpot (Carpenter?s Mate Second Class)
Professor
Lt. Joseph Cable, United States Marine Corps
Capt. George Brackett, United States Navy
Cmdr. William Harbison, United States Navy
Lead Nurse
Nurses, Officers, Sailors, Seabees, Marines and Soldiers, French Girls