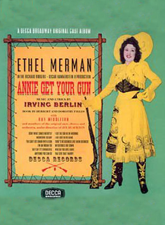 Annie Get Your Gun
Annie Oakley is the best shot around, and she manages to support her little brother and sisters by selling the game she hunts. When she's discovered by Col. Buffalo Bill, he persuades this novel sharpshooter to join his Wild West Show. It only takes one glance for her to fall head over heels for dashing shooting ace Frank Butler, who headlines the show. She soon eclipses Butler as the main attraction which, while good for business, is bad for romance. Butler hightails it off to join a rival show, his bruised male ego leading the way, but is ultimately pitted against Annie in a final shoot-out. The rousing, sure-fire finale hits the mark every time in a testament to the power of female ingenuity.
Vraag een licentie voor opvoering aan
Kies eerst de juiste instrumentale bezetting, alvorens de offerte aan te vragen.

Instrumentatie: Annie Get Your Gun - Orchestration Package (20 Books)

1 – Flute I-II (Both Flutes doubling Piccolo)
1 – Piano Vocal Score
1 – Oboe (Optional doubling English Horn)
1 – Clarinet I-II (Clarinet II doubling Bass Clarinet)
1 – Bassoon
1 – HORN
1 – Trumpet I-II
1 – TRUMPET III
1 – TROMBONE I
1 – TROMBONE II
1 – TROMBONE III (Bass Trombone)
2 – Percussion
2 – Violin A-B, C-D (Divisi)
1 – VIOLA (Divisi)
1 – Cello (Divisi)
1 – Bass
1 – HARP
1 – GUITAR
PRINCIPALS
2 Women
5 Men

FEATURED
1 Woman
3 Girls
2 Men
1 Boy

ENSEMBLE
Large singing-dancing ensemble with numerous small roles

CHARACTERS
Little Boy
Little Girl
Charlie Davenport
Dolly Tate
Iron Tail
Yellow Foot
Mac
Foster Wilson
Frank Butler
Annie Oakley
Little Jake - her brother
Nellie - her sister
Jessie - her sister
Minnie - her sister
Colonel William F. Cody a.k.a. Buffalo Bill
Mrs. Little Horse
Mrs. Black Tooth
Mrs. Yellow Foot
Indian Boy
Conductor
Porter
Waiter
Major Gordon Lillie a.k.a. Pawnee Bill
Chief Sitting Bull
Wild Horse
Pawnee's Messenger
Footman
Mr. Schuyler Adams
Mrs. Schuyler Adams
Dr. Percy Ferguson
Mrs. Percy Ferguson
Mr. T.L.C. Keefer
Mr. Ernest Henderson
Mrs. Ernest Henderson
Mrs. Sylvia Potter-Porter
Mr. Clay