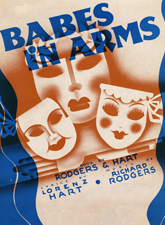 Babes in Arms (Guare Version)
The 1937 version of Rodgers & Hart's BABES IN ARMS is the quintessential 'Hey, kids, let's put on a show!' musical, boasting one of the greatest scores ever written. A group of teenagers are left without adult supervision when their folks hit the vaudeville summer circuit, and the local sheriff is determined to send the loafers to a work farm. But the determined kids talk the sheriff into a two-week reprieve, just enough time to produce their own show and prove their mettle. The son of a wealthy Southerner agrees to bankroll the production but only on the condition that the two black kids (roles created by the legendary Nicholas Brothers) not appear in the show. The other kids are outraged, but of course the show must go on and does, in a succession of comeuppance, reconciliation and romance. The old-fashioned virtues of a 30's musical comedy are peppered with socio-political issues which have remained resonant for more than six decades, and which later became the hallmark of Rodgers' collaboration with Hammerstein. But it's the sophisticated jocularity that make his musicals with Hart utterly unique, propelling these talented teens in their onward march toward self-discovery.
The 1959 adaptation by George Oppenheimer is also available. Please specify which version you would like when ordering.
Vraag een licentie voor opvoering aan
Kies eerst de juiste instrumentale bezetting, alvorens de offerte aan te vragen.

Instrumentatie: Orchestration Package (18 Books)

1 – PIIANO I
1 – PIANO CONDUCTOR SCORE
1 – PIANO II
1 – REED I (Flute and Piccolo)
1 – REED II (Oboe and English Horn)
1 – REED III (Alto Sax, Flute, Clarinet)
1 – REED IV (Alto Sax and Clarinet)
1 – REED V (Tenor Sax and Clarinet)
1 – REED VI (Clarinet, Bass Clarinet, Bassett Horn [Opt.])
1 – TRUMPET I
1 – TRUMPET II
1 – TRUMPET III
1 – TROMBONE
1 – DRUMS/PERCUSSION (1 Player - see list below)
1 – VIIOLIN I (Divisi)
1 – VIOLIN II (Divisi)
1 – CELLO (Divisi)
1 – BASS
PRINCIPALS
3 Girls
5 Boys
1 Man

FEATURED
2 Women
3 Boys
3 Men

ENSEMBLE
Singing-dancing ensemble as desired.

CHARACTERS
Val LaMar - our hero
Billie Smith - our heroine
Marshall Blackstone - Val's best friend
Dolores Reynolds - the Sheriff's daughter
Gus Fielding - a forceful friend of the Sheriff's daughter
Baby Rose - a former Hollywood child star
Irving de Quincy - half of an Afro-American dance team
Ivor de Quincy - his little brother, the other half of the dance team
Peter - who believes in Communism
Lee Calhoun - the son of a rich Southern Colonel
Beauregard Calhoun - his little brother
The Gang - Boys and Girls of the Ensemble
Dan LaMar - Val's dad, a vaudevillian
Maizie LaMar - Val's mom, a vaudevillian
Nat Blackstone - Marshall's dad, a vaudevillian
Emma Blackstone - Marshall's mom, a vaudevillian
Sheriff Reynolds - Dolores' father
Rene Flambeau - a French aviator
Phil McCabe - a radio announcer
Booker Vanderpool
Pinkie
Sam Reynolds
Lincoln Vanderpool
Dr. Snyder