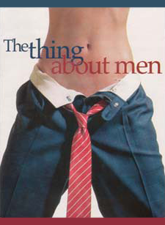 The Thing About Men
Tom is cheating on his wife Lucy (with several women). Lucy is cheating on her husband Tom (with Sebastian). Tom moves out on Lucy and, in disguise, moves in with Sebastian. These are the circumstances that set the mood of hilarious intrigue in this often moving but always light hearted musical about men.
Vraag een licentie voor opvoering aan
Kies eerst de juiste instrumentale bezetting, alvorens de offerte aan te vragen.

Title Specific Notes Materials Licensing
The Thing About Men takes place in an American city and its suburbs during the summer. The original New York production employed a unit set. Smaller units and additional pieces were used to suggest the following
SPECIFIC LOCATIONS
Tom and Lucy's Home
Tom's Office
A Taxi Cab
A Park Outside Sebastian's Apt. Bldg.
Blue Bar (a downtown dive)
Sebastian's Apartment (a loft)
A Gym
A Way Too Trendy Restaurant
A Country Bar
Instrumentatie: full package (The Thing About Men)

7 Libretto-Vocal
1 Piano-Conductor
1 Reed
1 Violin
1 Cello
1 Logo Pack
Instrumentatie: piano only (The Thing About Men)

7 Libretto-Vocal
1 Piano-Conductor
1 Logo Pack
PRINCIPALS
2 Women (1 woman plays multiple roles; see list below)
3 Men (1 man plays multiple roles; see list below)

CHARACTERS
Tom Ambrose - A middle-aged, middle class, overworked husband who struggles to stay faithful to his wife
Lucy Ambrose - Tom's wife, who turns to Sebastian upon learning of Tom's infidelity
Sebastian - Lucy's lover, a poor artist
Woman - Jessica (Tom's colleague with whom he's having an affair); a Mother; Okasana (Sebastian's roommate); a Bar Fly; Edith, Sebastian's Neighbor; Janice, a Gym Employee; Cindy, a Model; Juke Box Singer; a Sushi Deliverywoman; a Stylist; Vivian, a Secretary
Man - Darryl, Tom's Assistant; Manuel, a Taxi Driver; a Grunge Teenager; a Bartender; a Priest; Bernard, a Maitre D'; Lance, a Waiter; Another Bartender; a Sushi Deliveryman; a Stylist