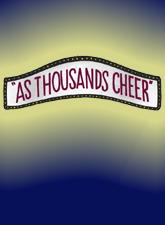 As Thousands Cheer
It was the Depression era version of SATURDAY NIGHT LIVE and THE DAILY SHOW. Moss Hart's sketches were sharp, witty and hilarious and Irving Berlin's songs ranged from wry to satiric to poignant. Their inspiration? The newspaper headlines of the day, from affairs to society photos and advice to the lovelorn; even comic strips and the weather report were fair game! A cast that included Clifton Webb, Ethel Waters and Marilyn Miller impersonated the likes of Joan Crawford, the Hoovers, John D. Rockefeller, Mahatma Gandhi and Josephine Baker for over 400 performances beginning in September of 1933. Considered a masterpiece of that specialized genre known as the topical revue, AS THOUSANDS CHEER inspired some of Harts best solo work as a comedy writer and afforded Berlin the opportunity to pen some of the greatest musical gems.
Vraag een licentie voor opvoering aan
Kies eerst de juiste instrumentale bezetting, alvorens de offerte aan te vragen.

Instrumentatie: 20 – Libretto/Vocal Books 1 – Logo CD 2 – Piano Vocal Scores 1 – BASS

PRINCIPALS
3 Women
3 Men

ENSEMBLE
Singing-dancing chorus as large as desired featuring The Ladies and Gentlemen of the Chorus.

COMMENTS
The original 1933 production employed a cast that numbered nearly 50 while the 1998 revival used a cast of only 6. The rousing success of both productions indicates that this topical revue can be produced on as large or as intimate a scale as you wish. A minimum of 6 actors is needed.

CHARACTERS
Langley - a butler
Mr. Andrews
Mrs. Andrews
Gertrude - a Pomeranian
Mr. Hoover
Mrs. Hoover
Frank - a moving man
Barbara Hutton
2 Suitors
The Chauffeur
The Weathercaster
Joan Crawford
Douglas Fairbanks Jr.
Will Hays
Representative of England
Representative of Italy
Representative of Germany
Representative of France
The Statue of Liberty
John D. Rockefeller, Sr.
John D. Rockefeller, Jr.
Mrs. John D. Rockefeller, Jr.
John D. Rockefeller, Jr.'s Children
The Radio Announcer
Monsieur Peppiton - the famous chef
Mr. Williams
Mrs. Williams
Miss Williams - their daughter
Opera Singer
Mahatma Gandhi
Aimee Semple McPherson
The Director
The Camera Operator
A Native
Customers
A Bellboy
Mrs. Fisher - the housekeeper
Ella - a scrubwoman
Aggie - a chambermaid
Henry - a waiter
A Window Cleaner
Josephine Baker
Her Personal Secretary
The King
The Queen
The Prince of Wales
The Prime Minister
The Gossip Columnist
The Ladies and Gentlemen of the Chorus