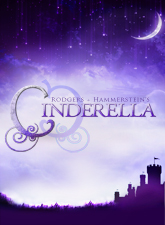 Cinderella (Broadway Version)
Rodgers + Hammerstein's Cinderella is the new Broadway adaptation of the classic musical. This contemporary take on the classic tale features Rodgers & Hammerstein's most beloved songs, including "In My Own Little Corner," "Impossible/It's Possible" and "Ten Minutes Ago," alongside a hilarious and romantic libretto by Tony Award nominee Douglas Carter Beane as well as some new characters, and surprising twists.
Originally presented on television in 1957 starring Julie Andrews, Rodgers & Hammerstein's CINDERELLA was twice re-made, first in 1965 for Lesley Ann Warren and then again in 1997 featuring Brandy and Whitney Houston. The original Broadway production opened in 2013 and starred Laura Osnes, Santino Fontana, Victoria Clark and Harriet Harris.
Running Time: 2 hours, 15 minutes, including one intermission
**Only available for professional productions**
Vraag een licentie voor opvoering aan
Kies eerst de juiste instrumentale bezetting, alvorens de offerte aan te vragen.

Instrumentatie: Standard Orchestration - Full Package (26 vocal books, 21 instruments) - Volledig pakket

26 Vocal Book
1 Piano-Conductor
1 Reed 1
1 Reed 2
1 Reed 3
1 Reed 4
1 Horn 1
1 Horn 2
1 Trumpet 1
1 Trumpet 2
1 Trombone
1 Keyboard
1 Harp
1 Drums
1 Percussion
2 Violin 1
2 Violin 2
1 Viola
1 Cello
1 Bass
1 Logo Pack
Instrumentatie: 13-Piece Broadway Tour Orchestration - Full Package (26 vocal books, 14 instruments)

13-Piece Broadway Tour Orchestration - Full Package:
(Note: The Tour Orchestration materials contain cuts and edits not reflected in the Acting Edition. An errata is included in the music materials as a resource for Licensees utilizing the Tour Orchestration. If planning to utilize ROCS Performance Tracks for your production, please select the Standard Orchestration or Piano Only Packages.)
26 Vocal Book
1 Piano-Vocal
1 Reed 1
1 Reed 2
1 Horn
1 Trumpet
1 Trombone
1 Drums & Percussion
1 Keyboard 1
1 Keyboard 2
1 Violin 1
1 Violin 2
1 Viola
1 Cello
1 Bass
1 Full Score - Act 1
1 Full Score - Act 2
1 Logo Pack
Instrumentatie: Piano Only (26 vocal books, 1 piano-conductor)

26 Vocal Book
1 Piano-Conductor
1 Logo Pack
Ella - Soprano
Prince Topher - Baritone
Lord Pinkleton - Tenor
Sebastian - Baritone

Marie - Soprano
Jean-Michel - Baritone
Madame - Mezzo-Soprano
Gabrielle - Soprano
Charlotte - Mezzo-Soprano

Ensemble Vocal Ranges:

Sopranos: C4 – Ab5 (Bb5)

Altos: Bb3 – F5

Tenors: D3 – G4 (Bb4)

Basses: Db3 – F4