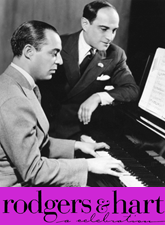 Rodgers & Hart – A Celebration
From their first hit song in 1925 through their final show-stopper in 1943, the prolific team of Rodgers & Hart was continually redefining the musical theatre with its wit, freshness and intelligence. In this rousing pastiche, the first act sets the stage for romance while the second act is comprised of their more satiric gems. The brief narration highlights the Rodgers & Hart story, but it's the songs that explain their success. Perhaps master tunesmith Irving Berlin summed it up best: 'Tuneful and tasty, schmaltzy and smart-music by Rodgers, lyrics by Hart.'
Vraag een licentie voor opvoering aan
Kies eerst de juiste instrumentale bezetting, alvorens de offerte aan te vragen.

Instrumentatie: Rodgers & Hart - Orchestration Package (6 Books)

1 – PIANO-CONDUCTOR ACT I
1 – PIANO-CONDUCTOR ACT II
1 – REED I (Piccolo, Flute, Clarinet, Alto Sax)
1 – REED II (Oboe, Clarinet, Tenor Sax, Optional English Horn and Bass Clarinet)
1 – PERCUSSION (see list below)
1 – BASS (Doubling Sandpaper Blocks)
3 Women
3 Men

COMMENTS: The New York production featured six men and six women, each with more or less equal-sized roles. In Los Angeles and at Chicago, the casts comprised three men and three women. It is not always necessary, however, for the cast to be evenly divided between men and women; further, it can be an excellent vehicle for two stars and several supporting players.