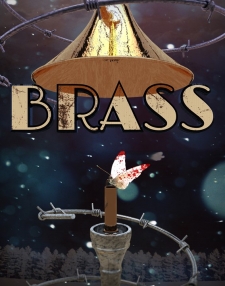 Brass
Commissioned by the National Youth Music Theatre to commemorate the centenary of the outbreak of the First World War, BRASS follows a group of Leeds residents from the start of the war until the battle of the Somme in 1916. The men, members of an amateur brass band, join up to the Leeds Pals regiment and their womenfolk decide to learn the instruments that the men have left behind to keep the spirit of the brass band alive and to play for them when they triumphantly return to the city after the war. We watch the women trying to learn the brass instruments whilst the men simply try to stay alive. It is an epic musical about love and survival.
Vraag een licentie voor opvoering aan
Kies eerst de juiste instrumentale bezetting, alvorens de offerte aan te vragen.

Instrumentatie: full package (Brass)

18 Libretto
18 Piano-Vocal
1 Trumpet 1/Cornet
1 Trumpet 2/Flugelhorn
1 Trombone/Euphonium
1 Tuba
1 Keyboard 1
1 Keyboard 2
1 Percussion
1 Violin
1 Double Bass
1 Full Score (in 2 Volumes)
Instrumentatie: piano only (Brass)

18 Libretto
18 Piano-Vocal
Medium (5-21) Large (14+)

Principals: 9 Men, 7 Women



THE PALS:

Private Alfred (Alf) Mabberley: 25. Alf conducts the successful Hyde Park Brass Band. He lives for music.

Handsome, mercurial, brave, a showman, he's a natural leader of men, but he has a dark secret.

Private Tom Button: 21. A third year language student at Leeds University, Tom plays euphonium in Alf's

band. Tom is an intellectual, a philosopher and a musical perfectionist.

Private Wilfred Gambles: 25. Wilfred joined Alf's band as a percussionist six weeks before the war

started. He comes from Coventry, but is an orphan and has spent years roaming the country.

Private Harry Sparrow: 25. A trainee solicitor. Harry is dapper and fashionable. He knows about the new

dance crazes. He likes ragtime and Puccini.

Private Maurice (Morrie) Grimes: 15. Morrie was 14 when he enlisted but lied about his age.

Private George Tilley: 30. A slightly jaded miner with blue scars on his face, George is stoic, wise and

unflappable.

Lance Corporal Gideon Tibbets: 38. A Salvationist, married to Peggy. Thin-faced, buttoned-up and

somewhat aggressive.

Lieutenant Clyde Bickerdyke: 28. The second son of wealthy Yorkshire land owners. His sister, Rosaline,

volunteers at Barnbow.

Major Justice Wrigley: 55. A fat, deeply arrogant Major, who has been transferred to the Pals Regiment

against his will. He comes from Berkshire, fought in the Boer war, and has never been to Leeds.

Other soldiers, recruiting sergeants and doctors to be played by the company.

THE LASSIES:

Eliza Mabberley: 26. A graduate from the University of Leeds. Eliza is Alfie's beloved older sister. She is a

feminist and fiercely independent.

Emmie Sparrow: 23. A deeply alluring woman, Emmie says she believes in women's rights, but secretly has

just one ambition; to live in a cottage with her husband Harry, and a cricket team of children!

Peggy Tibbets: 34. Peggy is the wife of Salvationist, Gideon Tibbets.

Tats Grimes: 18. Earthy. Edgy. Irreverent. Loose. Feisty. A good-time girl. A joker.

Titty Anderson: 17. Tats' innocent best friend, Titty has a heart of gold which belongs entirely and unrequitedly to Alf.

Rosaline Bickerdyke: 28. Still, ladylike, a touch haughty. Sister of Clyde.

Miss Myrtle Grimsby: 40. A brusque factory over-seer with a stentorian voice.

Other munitions workers will be played by the female ensemble.