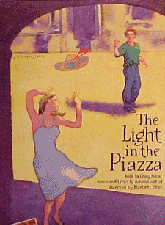 The Light in the Piazza
THE LIGHT IN THE PIAZZA takes place in Italy in the summer of 1953. Margaret Johnson, the wife of an American businessman, is touring the Tuscan countryside with her daughter, Clara. While sightseeing, Clara-a beautiful, surprisingly childish young woman-loses her hat in a sudden gust. As if guided by an unseen hand, the hat lands at the feet of Fabrizio Naccarelli, a handsome Florentine, who returns it to Clara. This brief episode, charged with coincidence and fate, sparks an immediate and intense romance between Clara and Fabrizio.
Margaret, extremely protective of her daughter, attempts to keep Clara and Fabrizio apart. As THE LIGHT IN THE PIAZZA unfolds, a secret is revealed: in addition to the cultural differences between the young lovers, Clara is not quite all that she appears. Unable to suppress the truth about her daughter, Margaret is forced to reconsider not only Clara's future, but her own hopes as well.
Vraag een licentie voor opvoering aan
Kies eerst de juiste instrumentale bezetting, alvorens de offerte aan te vragen.

Instrumentatie: full package (The Light in the Piazza)

Full Orchestration:
15 Libretto-Vocal Book
1 Piano-Vocal
1 Full Score
1 Reed 1
1 Reed 2
1 Guitar
1 Harp
1 Piano
2 Violin A
2 Violin B
2 Violin C
2 Cello
1 Bass
1 Percussion
1 Logo Pack
5-Piece Orchestration:
15 Libretto-Vocal Book
1 Piano-Vocal
1 Full Score
1 Violin
1 Cello
1 Harp
1 Piano
1 Bass
1 Logo Pack
Instrumentatie: piano only (The Light in the Piazza)

15 Libretto-Vocal Book
1 Piano-Vocal
1 Logo Pack
PRINCIPALS
2 Women
2 Men

FEATURED
2 Women
2 Men

ENSEMBLE
A small singing ensemble.

CHARACTERS
Margaret Johnson - An elegant, self-possessed, practical and attractive American woman in middle age
Clara Johnson - Margaret's twenty-six-year-old daughter, young and naïve for her age
Fabrizio Naccarelli - A twenty-year-old, good-looking and charming Florentine
Giuseppe Naccarelli - Fabrizio's slightly older brother
Franca Naccarelli - Guiseppe's wife
Signor Naccarelli - Fabrizio's father
Signora Naccarelli - Fabrizio's mother
Roy Johnson - Margaret's husband
Tour Guide
Priest
Ensemble