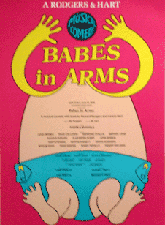 Babes in Arms (Oppenheimer Version)
This quintessential 'Hey, kids, let's put on a show!' musical boasts one of the greatest scores ever written. Set at a summer stock theatre, the plot concerns a group of young apprentices and their conviction to mount the original revue they've created while dodging the underhanded attempts of the surly theatre owner to squash their efforts at every turn. Further complications are provided by the overbearing stage mother of a beautiful ex-child star and the inflated ego of a hack southern playwright. But of course the show must go on, and so it does in a resolution of comeuppance, reconciliation and romance.
This version is the 1959 adaptation by George Oppenheimer. The Original 1937 version is also available. Please specify which version you would like when ordering.
Vraag een licentie voor opvoering aan
Kies eerst de juiste instrumentale bezetting, alvorens de offerte aan te vragen.

Instrumentatie: Orchestration Package (14 Books)

1 – PIANO VOCAL SCORE
1 – PIANO
1 – REED I (Alto Sax, Clarinet (Optional Flute, Optional Piccolo))
1 – REED II (Tenor Sax and Clarinet)
1 – REED III (Alto Sax, Clarinet)
1 – REED IV (Tenor Sax and Bass Clarinet)
1 – TRUMPET I-II
1 – TRUMPET III
1 – TROMBONE
1 – PERCUSSION (see list below)
1 – VIOLIN A-B (Divisi)
1 – VIOLA (Divisi)
1 – CELLO (Divisi)
1 – BASS
PRINCIPALS
3 Young Women
6 Young Men

FEATURED
2 Adult Men
4 Young Men

ENSEMBLE
Singing-dancing ensemble consisting of the Gang.

CHARACTERS
Maizie LaMar
Dan LaMar
Val LaMar
Nat Blackstone
Emma Blackstone
Marshall Blacksone
Billie Smith
Sheriff Reynolds
Gus Fielding
Booker Vanderpool
Pinkie
Lee Calhoun
Beauregard Calhoun
Sam Reynolds
Dolores Reynolds
Lincoln Vanderpool
Peter
Baby Rose
Ivor De Quincy
Irving De Quincy
Rene Flambeau
Phil Mc Cabe
Dr. Snyder
Bobby
Elenore
The Gang