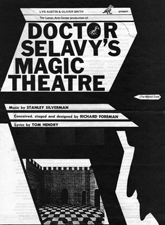 Dr. Selavy's Magic Theatre
Welcome to the extraordinary odyssey of a confused young man, led by wacky doctors through a labyrinth of wildly theatricalized versions of major life crises and temptations—wealth, sensuality, power, romance, lost innocence, and death. Presided over by the enigmatic Dr. Selavy (or C'est La Vie, if you like), himself an illusion created by master trickster Marcel Duchamp, this outrageous journey leads our hero in an ironic dance through an eccentric fun house of extravagant awakenings to a climax of self-knowledge and acceptance. To the strains of an eminently hummable and upbeat score, this off-beat piece provides an adventurous departure from the traditional expectations of musical theatre.
Vraag een licentie voor opvoering aan
Kies eerst de juiste instrumentale bezetting, alvorens de offerte aan te vragen.

Instrumentatie: full package (Dr. Selavy's Magic Theatre)

11 Libretto-Vocal Book
1 Piano-Conductor
1 Guitar 1
1 Guitar 2
1 Drums
1 Cello
1 Electric Bass
1 Logo Pack
Instrumentatie: piano only (Dr. Selavy's Magic Theatre)

11 Libretto-Vocal Book
1 Piano-Conductor
1 Logo Pack
PRINCIPALS
4 Women
4 Men
1 Boy

COMMENTS
The characters should be identified by the names of the actors in each role.

CHARACTERS
Ben - the young and bewildered patient
Dr. Mary - the strong-willed matron
Dr. Bob - short and lively with rolling eyes
Dr. Steve - the hippie type
Dr. Denise - exotic, svelte and sinuous
Dr. Amy - short, childlike but slightly macabre
Dr. Jessica - the beautiful, country club type
Dr. Selavy - austere, maniacal, tall and elegant
Young Ben (non-singing)