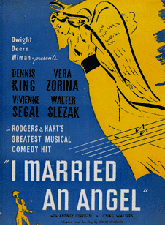 I Married an Angel
When a wealthy banker becomes disillusioned with women and vows that the only woman for him would have to be an angel, it's only a song or two before she comes flying in through the window! He marries her only to discover that angels can sometimes be troublesome, having none of the human failings that allow us mere mortals to tolerate one another. Her inability to be in any way dishonest results in her alienating everyone, from the banker's biggest depositor to society's grand dame. Through some side-splitting shenanigans, Angel is brought down to earth for what is- naturally- a marriage made in heaven.
Vraag een licentie voor opvoering aan
Kies eerst de juiste instrumentale bezetting, alvorens de offerte aan te vragen.

Instrumentatie: full package (I Married an Angel)

30 Libretto-Vocal Book
1 Piano-Conductor
1 Reed 1
1 Reed 2
1 Reed 3
1 Reed 4
1 Horn
1 Trumpet 1
1 Trumpet 2
1 Trombone
1 Harp
1 Percussion
1 Bass
1 Logo Pack
Instrumentatie: piano only (I Married an Angel)

30 Libretto-Vocal Book
1 Piano-Conductor
1 Logo Pack
PRINCIPALS
3 Women
3 Men

FEATURED
10 Women
1 Man

ENSEMBLE
Large singing-dancing ensemble with numerous small roles.

CHARACTERS
Major Domo
Two Guests
Olga Madayn
General Lucash
Guest
Peter Mueller
Count Willy Palaffi
Countess Peggy Palaffi
Anna Murphy
Angel
Justice of Peace
Valet de Chambre
Femme de Chambre
Modiste
1st Vendeuse
2nd Vendeuse
Harry Mischka Szigetti
Duchess of Holstein-Kuhhoff
1st Clerk
2nd Clerk
1st Stenographer
2nd Stenographer
Lucinda
Clarinda
Philomena
Rosalina
Seronella
Arabella
Florabella
Premier Danseur