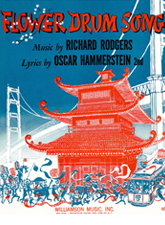 Flower Drum Song
Mei Li has come from China to San Francisco to marry nightclub owner Sammy Fong. But Sammy loves Linda Low, a dancer at his establishment. His friend Wang Ta is urged to marry Mei Li, even though he is promised to Linda. After farcical trifles, a torn Wang Ta eventually realizes it is Mei Li whom he loves after all, and they happily marry.
Vraag een licentie voor opvoering aan
Kies eerst de juiste instrumentale bezetting, alvorens de offerte aan te vragen.

Instrumentatie: full package (Flower Drum Song)

20 Libretto-Vocal Book
1 Piano-Vocal
1 Flute 1
1 Flute 2
1 Oboe
1 Clarinet 1
1 Clarinet 2
1 Bass Clarinet
1 Horn 1&2
1 Trumpet 1&2
1 Trumpet 3
1 Trombone 1
1 Trombone 2
1 Tuba
1 Harp
1 Guitar
1 Percussion
1 Violin 1
1 Violin 2
1 Viola
1 Cello
1 Bass
1 Logo Pack
Instrumentatie: piano only (Flower Drum Song)

20 Libretto-Vocal Book
1 Piano-Vocal
1 Logo Pack
PRINCIPALS
3 Women
2 Men

FEATURED
3 Women
2 Men
1 Boy

ENSEMBLE
Singing-dancing ensemble with children and several small roles

CHARACTERS
Madam Liang
Liu Ma
Wang San
Wang Ta
Wang Chi Yang
Sammy Fong
Dr. Li
Mei Li
Linda Low
Mr. Lung (The Tailor)
Mr. Huan (The Banker)
Helen Chao
Professor Cheng
Frankie Wing
Head Waiter
Night Club Singer
Dr. Lu Fong
Madam Fong
Dancing Ensemble
Children