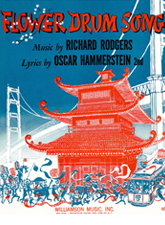 Flower Drum Song
The generation gap is given the Rodgers & Hammerstein treatment in this colorful approach to the age-old conflict. In San Francisco's Chinatown of the late '50s, nightclub owner Sammy Fong's traditional family has ordered him a picture-bride from China, hoping to end his pursuit of an enticing dancer. Mei Li arrives, shy and at sea in a world she doesn't understand, and it's clear that she's the wrong gal for the totally assimilated Sammy. However, she may be just the ticket for Sammy's buddy, whose traditionalist father is fighting a losing battle with his kids against rock `n' roll, baseball, sports cars and the typical trappings of the modern American life-style. By turns raucous and heartfelt, the solution to this delightful Chinese puzzle of properly matching the young people while reconciling the old is a celebration of American ingenuity.
Vraag een licentie voor opvoering aan
Kies eerst de juiste instrumentale bezetting, alvorens de offerte aan te vragen.

Instrumentatie: Orchestration Package (23 Books)

1 – Piano Vocal Scores
1 – FLUTE I (Doubling Piccolo, Alto Flute)
1 – FLUTE II (Doubling Piccolo)
1 – OBOE (Doubling English Horn)
1 – CLARINET I (Doubling Alto Sax)
1 – CLARINET II (Doubling Alto Sax)
1 – BASS CLARINET (Doubling Tenor Sax)
1 – HORN I - II
1 – TRUMPET I-II
1 – TRUMPET III
1 – TROMBONE I
1 – TROMBONE II
1 – TUBA
1 – PRECUSSION (see list below)
2 – VIOLIN I (Divisi)
2 – VIOLIN II (Divisi)
1 – VIOLA (Divisi)
1 – CELLO (Divisi)
1 – BASS
1 – HARP
1 – GUITAR (Doubling Banjo and Mandolin)
PRINCIPALS
3 Women
2 Men

FEATURED
3 Women
2 Men
1 Boy

ENSEMBLE
Singing-dancing ensemble with children and several small roles

CHARACTERS
Madam Liang
Liu Ma
Wang San
Wang Ta
Wang Chi Yang
Sammy Fong
Dr. Li
Mei Li
Linda Low
Mr. Lung (The Tailor)
Mr. Huan (The Banker)
Helen Chao
Professor Cheng
Frankie Wing
Head Waiter
Night Club Singer
Dr. Lu Fong
Madam Fong
Dancing Ensemble
Children