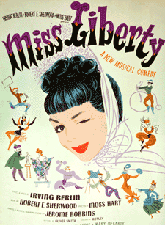 Miss Liberty
It is 1885 and Horace, a newspaper photographer, is fired when he bungles the important assignment of covering the Statue of Liberty ceremonies. At his girlfriend Maisie's urging, he goes to Paris in pursuit of the ultimate scoop-to discover the model who actually posed for the statue. When he finds her in sculptor Bartholdi's studio, Maisie sets about persuading the competing paper from which Horace was sacked to underwrite a U.S. tour for the model. What Horace doesn't realize is that he has the wrong model, and what Maisie doesn't know is that Horace has fallen in love with her. Upon their return from Paris, some antic and heartfelt complications ensue but a happy ending is inevitable when the statue is dedicated in a rousing patriotic finale that only Irving Berlin could have written.
Vraag een licentie voor opvoering aan
Kies eerst de juiste instrumentale bezetting, alvorens de offerte aan te vragen.

Instrumentatie: full package (Miss Liberty)

25 Libretto-Vocal Book
1 Piano-Conductor - Act 1
1 Piano-Conductor - Act 2
1 Reed 1
1 Reed 2
1 Reed 3
1 Reed 4
1 Reed 5
1 Trumpet 1&2
1 Trumpet 3
1 Horn
1 Trombone 1
1 Trombone 2
1 Piano - Act 1
1 Piano - Act 2
1 Harp
2 Percussion 1&2
1 Violin A
1 Violin B
1 Violin C
1 Violin D
1 Viola 1&2
1 Cello 1&2
1 Bass
1 Logo Pack
Instrumentatie: piano only (Miss Liberty)

25 Libretto-Vocal Book
1 Piano-Conductor - Act 1
1 Piano-Conductor - Act 2
1 Logo Pack
PRINCIPALS
2 Women
3 Men

FEATURED
1 Woman
2 Men

COMMENTS
Large singing-dancing ensemble with many small roles

CHARACTERS
Maisie Dell
The Herald Reader
James Gordon Bennett
Horace Miller
Police Captain
The Mayor
French Ambassador
Carthwright
Joseph Pulitzer
The Sharks
Bartholdi
The Models
Monique Dupont
The Boy
The Girl
The Acrobats
Strong Man
The Countess
A Lover
His Girl
A Gendarme
A Lamplighter
Another Lamplighter
A Socialite
An Actress
A Minister
An Admiral
The Boys
The Mother
The Policeman
The Brothers
The Train
Reception Delegation
A Maid