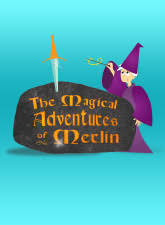 The Magical Adventures of Merlin
This re-imagined tale shares how a young Merlin meets a young, soon-to-be king, Arthur in mythical, ancient England. Will Merlin choose ultimate magical power- his lifelong dream- or friendship with Arthur and Guinevere? Will Arthur pull the sword from the stone and defeat the bewitching Morgana? Can Merlin become the greatest wizard of the land? Magical surprises provide the answers in this enchanted musical adventure.
TYA (Theatre for Young Audience)
Running time: 1 hour, no intermission
Klavieruittreksels en eventuele libretto dienen apart besteld te worden s.v.p. aangeven op het offerteformulier.
Vraag een licentie voor opvoering aan
Kies eerst de juiste instrumentale bezetting, alvorens de offerte aan te vragen.

Instrumentatie: THE MAGICAL ADVENTURES OF MERLIN - Accompaniment Tracks 1 – Accompaniment Tracks 1 – Vocal Tracks THE MAGICAL ADVENTURES OF MERLIN - Rehearsal Set 2 – Piano Vocal 18 – Libretto Vocal

Medium (5-21)
Principal: 8 Men, 5 Women