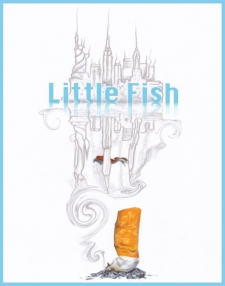 Little Fish
When Charlotte decides to give up smoking, she doesn't realise quite how difficult it will be. As she attempts to fill her nicotine-starved days, the events of a troubled past slowly begin to resurface: an abusive ex-boyfriend, a new life in New York, a bizarre roommate and a boss who is a little too hands on. As her emotional debris accumulates, we see Charlotte's vivid memories juxtaposed against her present day life. But even with her friends trying to help, can this Little Fish learn to survive in a pond as big as New York City? LITTLE FISH introduces us to a darker New York than that seen in most musicals. Inhabiting the lesser-seen corners of the city, Michael John LaChiusa blends a pulsating, jazzy and resonant score with intelligent and witty lyrics. Combined with a sharply observed book filled with humour, this is a truly modern musical that no one should miss.
Running time approximately 90 minutes.
Vraag een licentie voor opvoering aan
Kies eerst de juiste instrumentale bezetting, alvorens de offerte aan te vragen.

Instrumentatie: Little Fish (full package)

10 Keyboard 1-Conductor
1 Keyboard 2
1 Reed
1 Guitar
1 Percussion
1 Bass
Instrumentatie: Little Fish (piano only)

10 Keyboard 1-Conductor
Principals: 4 Men, 5 Women

Featured: 10 characters, all of the named characters should double as ensemble members with the exception of Charlotte, Kathy and Marco.

Charlotte, early thirties

Kathy, early thirties

Marco, early thirties

Robert, forties

Cinder, twenties

John Paul, twenties

Mr. Bunder, fifties

Young Girl, teenage