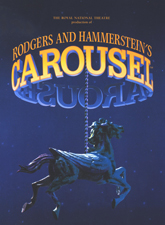 Carousel
In a Maine coastal village toward the end of the 19th century, the swaggering, carefree carnival barker, Billy Bigelow, captivates and marries the naive millworker, Julie Jordan. Billy loses his job just as he learns that Julie is pregnant and, desperately intent upon providing a decent life for his family, he is coerced into being an accomplice to a robbery. Caught in the act and facing the certainty of prison, he takes his own life and is sent 'up there.' Billy is allowed to return to earth for one day fifteen years later, and he encounters the daughter he never knew. She is a lonely, friendless teenager, her father's reputation as a thief and bully having haunted her throughout her young life. How Billy instills in both the child and her mother a sense of hope and dignity is a dramatic testimony to the power of love. It's easy to understand why, of all the shows they created, CAROUSEL was Rodgers & Hammerstein's personal favorite.
Vraag een licentie voor opvoering aan
Kies eerst de juiste instrumentale bezetting, alvorens de offerte aan te vragen.

Instrumentatie: Orchestration Package (27 Books)

1 – FLUTE I (Doubling Piccolo)
1 – PIANO VOCAL SCORE
1 – FLUTE II (Doubling Piccolo)
1 – OBOE (Doubling English Horn)
1 – CLARINET I
1 – CLARINET II
1 – BASSOON (Optional Bass Clarinet)
1 – HORN I
1 – HORN II
1 – HORN III
1 – TRUMPET I
1 – TRUMPET II
1 – TROMBONE I
1 – TROMBONE II
1 – TROMBONE III
1 – TUBA
1 – PERCUSSION
1 – HARP
2 – VIOLIN I (Divisi)
2 – VIOLIN II (Divisi)
2 – VIOLA (Divisi)
2 – CELLO (Divisi)
1 – BASS
Instrumentatie: Carousel - Two Piano Arrangement (2 Act I, 2 Act Ii)

2 – TWO PIANO ARRANGEMENT - Act I
2 – TWO PIANO ARRANGEMENT - Act II
PRINCIPALS
3 Women
3 Men

FEATURED
2 Women
2 Men

ENSEMBLE
Large singing-dancing ensemble with Townspeople, Amusement Park Carnies, Youngsters and Seafaring Men

CHARACTERS
Carrie Pipperidge
Julie Jordan
Mrs. Mullin
Billy Bigelow
Juggler
1st Policeman
David Bascombe
Nettie Fowler
Enoch Snow
Jigger Craigin
Arminy
2nd Policeman
Captain
1st Heavenly Friend (Brother Joshua)
2nd Heavenly Friend
Starkeeper
Louise
Carnival Boy
Enoch Snow, Jr.
Principal
Dr. Seldon
Townspeople, Amusement Park Carnies, Youngsters, and Seafaring Men