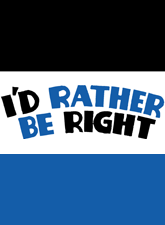 I'd Rather Be Right
The unique collaboration of Rodgers & Hart and Kaufman & Hart brought George M. Cohan back to Broadway after an absence of ten years, resulting in the largest advance sale in Broadway history. This Depression-era political satire, set in NYC's Central Park, poses the question, 'What's a young couple to do when they can't get married until he gets a raise, and his boss won't give him a raise until the President balances the budget?' Who should come strolling through the park but FDR himself, and soon he is determined to resolve the country's economic crisis on behalf of his young new friends. The ensuing machinations bring on the entire cabinet, the Supreme Court, the Chief Justice, the Federal Theatre's production of 'Spring in Vienna,' and the President's mother. No one escapes unscathed in this hilarious political sent-up which, over half a century after its creation, still plays as if inspired by last week's headlines.
Vraag een licentie voor opvoering aan
Kies eerst de juiste instrumentale bezetting, alvorens de offerte aan te vragen.

Instrumentatie: piano only (I'd Rather Be Right)

25 Libretto-Vocal
1 Piano-Conductor
1 Logo Pack
This title is orchestrated for Piano Only
PRINCIPALS
1 Woman
2 Men

FEATURED
4 Women
6 Men

ENSEMBLE
Large singing-dancing Ensemble with numerous small roles

CHARACTERS
Peggy Jones
Phil Barker
The President of the United States
His Secretary
The Postmaster General
The Secretary of the Treasury
The Secretary of State
The Secretary of Labor
The Secretary of the Navy
The Secretary of Commerce
The Secretary of Agriculture
The Secretary of War
The Secretary of the Interior
The Attorney-General
The Chief Justice
James B. Maxwell
Federal Theatre Director
Social Securities Messenger
The President's Mother
A Butler
The Judge's Girl
Sistie
Buzzie
Tony
Joe
The Acrobats (2)