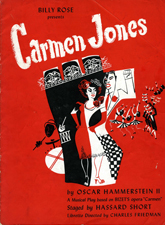 Carmen Jones
In a Southern town during World War II, Joe, an army corporal, is stationed near a parachute factory where Carmen Jones is employed. This reputed hussy soon manages to steal Joe away from his fiancée, and the army as well, and they run off to Chicago together. But the fickle Carmen loses interest in Joe when she meets and successfully woos Husky Miller, a prize fighter on his way to the top. Mad with jealousy, Joe waits for Carmen outside the stadium the night of Husky's big fight to make a last desperate plea for her love. When she denies him resolutely, he stabs her to death in a rage of passion to the eerie accompaniment of the crowd inside the stadium cheering Husky's victory.
Vraag een licentie voor opvoering aan
Kies eerst de juiste instrumentale bezetting, alvorens de offerte aan te vragen.

Instrumentatie: Orchestration Package

1 – Full Score, Act 1
1 – Full Score, Act 2
1 – Flute I
1 – Flute II
1 – Oboe I
1 – Oboe II
1 – Clarinet I
1 – Clarinet II
1 – Bassoon I
1 – Bassoon II
1 – Horn 1
1 – Horn II
1 – Horn III
1 – Horn IV
1 – Trumpet I
1 – Trumpet II
1 – Trombone I
1 – Trumpet II
1 – Trombone III
1 – Harp
2 – Percussion
1 – Timpani
9 – Violin I
8 – Violin II
7 – Viola
6 – Cello
5 – Bass
Principals
4 Women
6 Men

Featured
2 Women
4 Men

Ensemble
Large singing-dancing ensemble with several small roles and children

CHARACTERS
Corporal Morrell
Foreman
Cindy Lou
Sergeant Brown
Joe
Carmen Jones
Sally
T-Bone
Tough Kid
Drummer
Waiter
Frankie
Myrt
Rum
Dink
Husky Miller
Soldiers (3)
Mr. Higgins
Miss Higgins
Photographer
Card Players
Dancing Girl
Poncho
Dancing Boxers (2)
Bullet Head
Referee