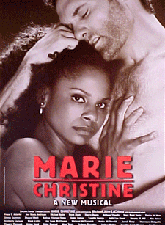 Marie Christine
This powerful re-telling of the tragic Medea myth was hailed by the San Francisco Examiner as 'A major work by one of the most highly regarded new serious songwriters for the stage.' Set in the twilight years of the 19th century, MARIE CHRISTINE chronicles its doomed heroine's journey from her genteel life of privilege in New Orleans Creole society through betrayal and incomprehensible vengeance in boisterous Chicago. This gripping tale of one headstrong and passionate young woman's all-consuming love for an ambitious sea captain provides a tour-de-force for its leading lady. When it premiered at the esteemed Lincoln Center Theatre, the New York Daily News found it to be 'A brilliant re-working of Medea [that] manages at once to make it fresh and to retain its gut-wrenching compulsion.' MARIE CHRISTINE was the final Broadway musical of the 20th century, an extraordinary creation that investigates unsettling mysteries of the psyche that are as old as the human condition itself.
Vraag een licentie voor opvoering aan
Kies eerst de juiste instrumentale bezetting, alvorens de offerte aan te vragen.

Instrumentatie: full package (Marie Christine)

22 Libretto
22 Piano-Vocal
1 Reed 1
1 Reed 2
1 Reed 3
1 Reed 4
1 Horn 1
1 Horn 2
1 Trumpet 1
1 Trumpet 2
1 Percussion 1
1 Percussion 2
2 Violin 1&2
1 Viola
1 Cello
1 Bass
1 Logo Pack
Additional Material:
A Full Score is available for this title for an additional fee. Please contact your licensing representative for additional information.
Instrumentatie: piano only (Marie Christine)

22 Libretto
22 Piano-Vocal
1 Logo Pack
PRINCIPALS
6 Women
3 Men

FEATURED
4 Women
3 Men
2 Boys (non-speaking roles)

ENSEMBLE
Singing ensemble

CHARACTERS
Woman in Prison #1
Woman in Prison #2
Woman in Prison #3
Marie Christine L'Adresse
Marie Christine L'Adresse's Mother
Dante Keyes
Jean - Marie Christine's elder brother
Paris - her other brother, younger than Jean
Lisette - Marie Christine's maid
Maid #1
Maid #2
Gentleman #1
Gentleman #2
Beatrice - Jean's fiancée
2 Children - three and five years old, the children of Marie Christine and Dante
Magdalena - an entertainer
2 'Daughters' - performers with Magdelena. Will also play the daughters of Esau Parker
Esau Parker
Charles Gates - Dante's financier
Leary - associate of Gates
McMahon - associate of Gates
Barfly #1
Barfly #2
Dante as an old man
Helena - daughter of Gates