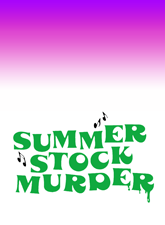 Summer Stock Murder
This riotous musical mystery's three acts span three weeks at the Sagautasac Playhouse, a typical summer stock theatre. The company rehearses and presents a new musical in each act-a Friml-esque operetta, a Cole Porter-ish potpourri and a musical drama a la Sondheim. With the pressure on and temperaments soaring, a string of bizarre murders begins taking place. Accompanying this high drama of the hilarious sort is the low comedy of visiting stars and sex-crazed apprentices as crisis after crisis threatens each curtain. In a stroke of comic inspiration, one woman plays each of the visiting guest stars who arrive in each act-an ex-diva cum game show panelist, a B-movie sexpot, and a boozing broad from Broadway- making it a tour de force for a lucky singing actress. If the time has come to give your audience one they haven't seen, this is it!
Vraag een licentie voor opvoering aan
Kies eerst de juiste instrumentale bezetting, alvorens de offerte aan te vragen.

Instrumentatie: piano only (Summer Stock Murder)

13 Libretto Vocal
1 Piano Vocal
1 Logo
5 performance tracks representing "in-show performance" vended digitally. Pleae refer to your libretto and/or PC for further information.
This title is orchestrated for Piano Only.
PRINCIPALS
5 Women (1 Woman plays 3 Roles)
6 Men

CHARACTERS:
Julieann Barrington - sexy, bitchy leading lady, nearing 30.
Toby Patterson - genial, easygoing, leading man, older than most of the kids.
Otto French - tyrannical, overbearing, and middle-aged director/producer/owner of the playhouse.
Maggie Burke - young, innocent, and naïve intern.
Constance D'Archet - aging, embittered character actress.
Mason Hamlin - Sagaustac's erudite, eccentric and emotionless musical director.
Michael Hachmeister - flamboyant, aggressive, and gay, an actor in the company.
Christopher Vlasky - sexually confused young male lead.
Dalton Brooks - perpetually out of left field member of the company.
Vilma French - Otto's mousy, beaten-down wife, costumer and everything else for the playhouse.
The Three Visiting Stars (played by the same actress):
Doris Delaney - an over-the-hill soprano.
Cindi Summers - a blonde sexpot B movie star of many years ago.
Mara Moorehead - a brassy, boozing Broadway star.