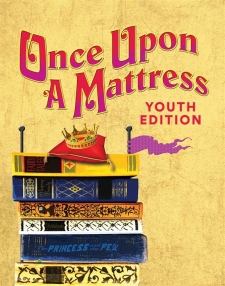 Once Upon A Mattress: Youth Edition
Once Upon A Mattress: Youth Edition is a one-hour adaptation of the beloved musical designed for young performers.
Many moons ago in a far-off place, Queen Aggravain decreed no couples could marry until her son, Prince Dauntless, found a bride. Princesses came from far and wide to win the hand of the prince, but none could pass the impossible tests given to them by the Queen. That is, until the "shy" swamp princess, Winnifred the Woebegone, showed up. Would she be able to pass the Sensitivity Test, marry her prince and help Lady Larkin and Sir Harry to the altar? Carried on a wave of wonderful songs, by turns hilarious and raucous, romantic and melodic, this rollicking spin on the classic tale The Princess and the Pea provides some side-splitting shenanigans. After all, a princess is a delicate thing.
Vraag een licentie voor opvoering aan
Kies eerst de juiste instrumentale bezetting, alvorens de offerte aan te vragen.

Instrumentatie: full package (Once Upon a Mattress: Youth Edition)

30 Student Libretto-Vocal
1 Piano-Vocal
1 Production Guide
1 Digital Resource Package:
Performance Tracks
Guide Vocal Tracks
Guide to Choreography & Staging
Audition Sides and Forms and Track Samples
Costume Design
Set Design
Props List
Artwork
Note: Once Upon A Mattress: Youth Edition is presented with fully orchestrated Performance Tracks; there is no orchestration for live accompaniment.
Notwithstanding the Rental Material return instructions set forth in your licensing agreement, you do not need to return your Rental Materials for this title.
PRINCIPALS
3 Women (Princess Winnifred the Woebegone, Queen Aggravain, Lady Larken)
5 Men (Prince Dauntless the Drab, Sir Harry, The Minstrel, The Jester, The Silent King)

FEATURED
1 Woman (Lady Beatrice)
1 Man (The Wizard)

ENSEMBLE
Singers and dancers portraying the Ladies and Knights of the Kingdom

CHARACTERS
Princess Winnifred the Woebegone
Prince Dauntless the Drab
Queen Aggravain
The Silent King
Lady Larken
Sir Harry
The Minstrel
The Jester
The Wizard
Lady Lucille
Sir Studley
Lady Rowena
Lady Beatrice
Sir Harold
Princess No. 12
Ladies and Knights of the Kingdom