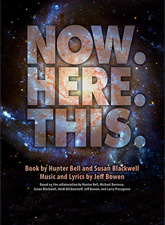 Now. Here. This.
Created by the team that brought you [title of show], Now. Here. This. is a new musical tackling life's big questions with inimitable humour and humanity. The show follows the evolution and adventures of four friends in a natural history museum as they journey through time–from the present day museum, to the past, and back again. Inspired by various exhibits (bees, reptiles, early man, ancient civilizations and outer space), the foursome shares their stories about friendship, hoarding, hiding, laughing, living, dying and secondary school in an attempt to step directly into that elusive present moment…into the Now. Here. This.
Vraag een licentie voor opvoering aan
Kies eerst de juiste instrumentale bezetting, alvorens de offerte aan te vragen.

Instrumentatie: full package (Now. Here. Is.)

6 Libretto-Vocal Book
1 Keyboard-Conductor
1 Bass
1 Drum Set
1 Guitar
Instrumentatie: piano only (Now. Here. Is.)

6 Libretto-Vocal Book
1 Keyboard-Conductor
PRINCIPLES
2 Men
2 Women

CHARACTERS
Man 1 (Bari-tenor, B to G#)
Man 2 (Tenor, C to A)
Woman 1 (Alto, F to C)
Woman 2 (Alto, F to D)