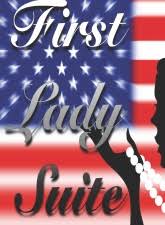 First Lady Suite
Michael John LaChiusa's FIRST LADY SUITE is an enthralling look into the lives of some of history's most neglected figures, the wives of U.S. presidents. They are: Jacqueline Bouvier Kennedy, Mamie Eisenhower, Bess Truman and Eleanor Roosevelt. FIRST LADY SUITE has a distinct structure. The first piece, the staccato, yet hauntingly lyrical Over Texas, takes place aboard Air Force One on November 22nd, 1963. Mary Gallagher, the First Lady's personal secretary, and Evelyn Lincoln, personal secretary to the President, are trying to relax as they fly into Dallas. Mary is coaxed into napping by the cool, collected, Evelyn. Mary's dreams become portentous nightmares as they are haunted by a ghostly Jackie and an eerie Lady Bird. The brassy, bouncy Where's Mamie? takes place in Ike and Mamie's bedroom at the White House, yet quickly turns into a time-travel fantasy as Mamie, melancholic and alone on her birthday, is paid a visit by the celebrated opera star Marian Anderson. Marian whisks Mamie off to Algiers to confront Ike about an affair, and warn him of the racial strife he'll face later in life as President. The comical Olio presents first daughter Margaret Truman at a recital trying her best to sing as she's constantly upstaged by First Lady Bess. The final piece of the Suite, Eleanor Sleeps Here, is a heart rending examination of the relationship between Eleanor Roosevelt and Lorena Hickok as they're being flown over Washington by Amelia Earhart.
Vraag een licentie voor opvoering aan
Kies eerst de juiste instrumentale bezetting, alvorens de offerte aan te vragen.

Instrumentatie: Piano only (First Lady Suite)

11 Two Piano Arrangement Scores
2 Piano-Vocal Scores (Reduction)
Principals: 1 Man, 6 Women

Flexible Casting: the New York production used an ensemble of 1 man and 6 women playing 13 women and 1 man.