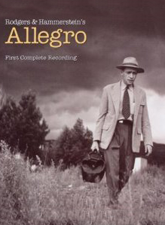 Allegro
This ensemble musical chronicles nearly four decades in the life of an Everyman, Joseph Taylor, Jr., from cradle through a mid-life discovery of who he is and what his life is truly about. The first musical to be staged by a director who was also the choreographer (the legendary Agnes de Mille), the unique structural format allows the saga to whisk us from Joe's birth through his childhood, from college dorm to marriage altar, and on to his career; from the tranquility of his small Midwestern hometown to the hectic din of big city life, in a series of vignettes and musical sequences dazzling in their simplicity and stunning in their impact. Ahead of its time theatrically, ALLEGRO remains timeless in its appeal.
Vraag een licentie voor opvoering aan
Kies eerst de juiste instrumentale bezetting, alvorens de offerte aan te vragen.

Instrumentatie: Orchestration Package (26 Books)

1 – FULL SCORE - Act I
1 – FULL SCORE - Act II
1 – FLUTE (Doubling Piccolo)
1 – OBOE (English Horn)
1 – CLARINET I
1 – CLARINET II
1 – BASSOON
1 – HORN I
1 – HORN II
1 – HORN III
1 – TRUMPET I
1 – TRUMPET II
1 – TRUMPET III
1 – TROMBONE I
1 – TROMBONE II
1 – TUBA
1 – PERCUSSION (see list below)
1 – PIANO
2 – VIOLIN I (Divisi)
2 – VIOLIN II (Divisi)
2 – VIOLA
1 – CELLO
1 – BASS
PRINCIPALS
3 Women
4 Men

FEATURED
2 Women
2 Men

ENSEMBLE
Singing-dancing ensemble with several small roles

CHARACTERS
Marjorie Taylor
Dr. Joseph Taylor
Mayor
Grandma Taylor
Friends of Joey (2)
Jennie Brinker
Principal
Georgie
Hazel Skinner
Charlie Townsend
Joeseph Taylor, Jr.
Miss Lipscomb
Cheer Leaders
Coach
Ned Brinker
English Professor
Chemistry Professor
Bertram Woolhaven
Molly
Beulah
Minister
Millie
Dot
Addie
Dr. Bigby Denby
Mrs. Mulhouse
Mrs. Lansdale
Jarman, a butler
Maid
Emily West
Doorman
Brook Lansdale
Harry Buckley