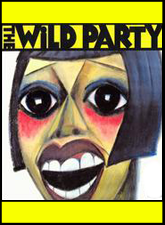 The Wild Party
Manhattan decadence in the 1920's provides the backdrop for this tough musical fable. Queenie, a vaudeville chorine, hosts the blow-out of the title with her vicious lover, a black-face minstrel. The guests are a vivid collection of the unruly and the undone: Queenie's conniving rival; a cocaine-sniffing bisexual playboy; a washed-up boxer; a black brother act; a diva of indeterminate age and infinite life experience; the fresh-off-the-farm ingénue whose naïveté quickly evaporates; a lesbian actress and her comatose girlfriend; and the bargain basement Valentino who catches Queenie's roving eye. The jazz and gin soaked party rages to a mounting sense of threat as artifice and illusion are stripped away. When midnight debauchery leads to tragedy at dawn, the high-flying characters land with a sobering thud, reminding us that no party lasts forever.
MATURE SUBJECT MATTER. MAY BE INAPPROPRIATE FOR SCHOOLS.
Vraag een licentie voor opvoering aan
Kies eerst de juiste instrumentale bezetting, alvorens de offerte aan te vragen.

Instrumentatie: full package (The Wild Party)

17 Libretto-Vocal Book
1 Piano-Conductor
1 Reed 1
1 Reed 2
1 Reed 3
1 Reed 4
1 Trumpet 1
1 Trumpet 2
1 Trombone
1 Piano
1 Guitar
1 Drums
1 Percussion
1 Violin 1&2
1 Violin 3
1 Bass
1 Logo Pack
Instrumentatie: piano only (The Wild Party)

17 Libretto-Vocal Book
1 Piano-Conductor
1 Logo Pack
PRINCIPALS
7 Women
8 Men

CHARACTERS
Queenie - a fading vaudeville chorine, neither young nor old
Burrs - Queenie's vicious lover, a blackface vaudevillian
Jackie - a playboy of dubious sexuality
Miss Madelaine True - a nearly famous stripper
Sally - Madelaine's date, a morphine addict
Eddie Mackrel - a black, aging ex-champion of the boxing ring
Mae - Eddie's ditzy wife, a former chorine
Nadine - Mae's excitable 14-year old sister
Phil D'Armano - part of a black brother act
Oscar D'Armano - part of a black brother act
Dolores Montoya - an ageless star of yesteryear
Gold - a vaudeville producer with Broadway ambitions
Goldberg - a vaudeville producer with Broadway ambitions
Black - a handsome, suave escort
Kate - a dagger-tongued, former chorine and would-be star