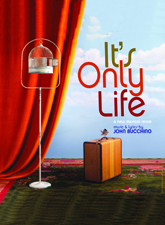 It's Only Life
John Bucchino's songs have been recorded and performed by Judy Collins, Patti LuPone, Yo-Yo Ma, Audra MacDonald, Liza Minnelli, Art Garfunkel and many others. Conceived by director Daisy Prince and the award-winnnig songwriter, IT'S ONLY LIFE is a musical revue about longing, fulfillment, loss, triumph and ultimately wisdom. According to the New York Times, Bucchino's 'flowing, finely made piano ballads describe an urban life in which relationships come and go in cycles of yearning, fulfillment, heartbreak and healing' – where romantic love is anticipated with 'high expectations, high anxiety and open hearts.' The show won LA's 2008 Ovation Award for Best Book/Lyrics/Music for an Original Musical.
Vraag een licentie voor opvoering aan
Kies eerst de juiste instrumentale bezetting, alvorens de offerte aan te vragen.

Instrumentatie: piano only (It's Only Life)

PRINCIPALS
2 Women
3 Men

CHARACTERS
Andrea
Billy
Brooks
Gavin
Jessica

IT?S ONLY LIFE was originally designed with 3 men and 2 women, however it can be performed with a larger cast. The character names (taken from the recording) are used only as reference. In your production and program, you may substitute the names of your performers.