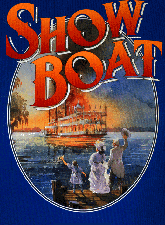 Show Boat (Hal Prince Version)
Since its premiere in 1927, SHOW BOAT has never stopped moving. For over seven decades this seminal musical has continued to evolve on a journey that has reflected the ongoing development of the lyric theater, confirming its status as the pivotal work bridging operetta and contemporary musical theater. After three film versions, numerous Broadway and London revivals, countless tours and recordings, legendary director Harold Prince took the helm for a new Broadway production in 1994 that instantly became the blockbuster hit of the season. With Oscar Hammerstein's eldest son William serving as advisor, Prince studied all previous versions of SHOW BOAT and, with the celebrated choreographer Susan Stroman, developed a version of the classic that was hailed as a triumph by critics and audiences alike. This epic musical spans 40 years in the lives of three generations of show folk, following theirs loves and heartbreaks, their ambitions and disappointments along the Mississippi River and in Chicago.
Vraag een licentie voor opvoering aan
Kies eerst de juiste instrumentale bezetting, alvorens de offerte aan te vragen.

Instrumentatie: full package (Show Boat [Harold Prince Version])

1 Full Score Act I Part 1
1 Full Score Act I Part 2
1 Full Score Act II Part 1
1 Full Score Act II Part 2
22 Libretto
23 Piano1Vocal
1 Reed 1
1 Reed 2
1 Reed 3
1 Reed 4
1 Reed 5
1 Reed 6
2 Horn 1 & 2
2 Trumpet 1 & 2
1 Trombone
1 Trombone/Tuba
2 Drums/Percussion
1 Piano/Synthesizer
1 Harp
1 Guitar/Banjo
3 Violin A-B-C
2 Viola A-B
1 Cello
1 Bass
1 Logo Pack
Instrumentatie: piano only (Show Boat [Harold Prince Version])

22 Libretto
23 Piano-Vocal
1 Logo Pack
PRINCIPALS
5 Women
4 Men

FEATURED
Numerous Featured Roles

ENSEMBLE
African-American and Caucasian Singing-Dancing Ensembles consisting of Stevedores, their Gals, Children, Townspeople along the Mississippi, and City Folk in Chicago

CHARACTERS
Steve Baker - the leading man in the Show Boat Troupe
Queenie - the African-American cook on the Show Boat
Pete - the engineer on the Show Boat
Parthy Ann Hawkes - Cap'n Andy's wife
Windy - the pilot on the Show Boat
Cap'n Andy - the captain of the Show Boat
Ellie May Chipley - the soubrette in the Show Boat Troupe
Frank Schultz - Ellie's boyfriend, the villain in the Show Boat Troupe
Julie LaVerne - Steve's mulatto wife, the leading lady in the Show Boat Troupe
Gaylord Ravenal - a handsome gambler
Sherrif Vallon - of Natchez
Magnolia Hawkes - Parthy and Andy's daughter
Joe - Queenie's husband, an African-American stevedore
Card Dealer
Jeb - a backwoodsman
Another Backwoodsman
Young Kim - Magnolia and Ravenal's 10 year old daughter
Ethel - a boardinghouse cleaning woman
Mrs. O'Brien - a boardinghouse landlady
Mother Superior - at St. Agatha's Convent
Jim Greene - the director of the floor show at the Trocadero Nightclub
Jake - the pianist at the Trocadero
Charlie - the doorman at the Trocadero
Lottie - an elegant lady of the evening
Dottie - her friend
A Drunk
A Radio Announcer
Kim
Old Lady on the Levee
Stevedores, their Gals, Children, Townspeople along the Mississippi, and City Folk in Chicago